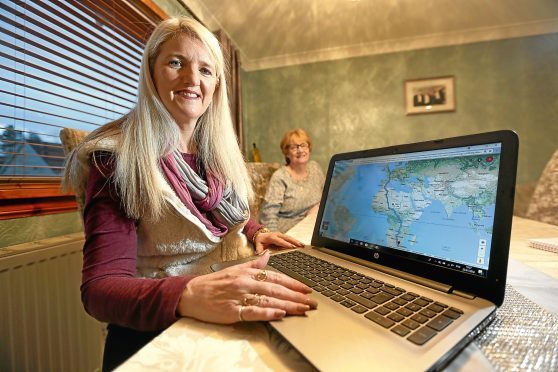 A couple are almost ready to embark on an epic road trip from one Dundee to another in a customised Land Rover.
Donna Boylan and her husband Kevin Krummeck will leave the South African coal mining town of Dundee on May 6 and head for the City of Discovery on an epic 12,000-mile trip.
The couple expect the journey, which also marks their 30th wedding anniversary, to take about three months, raising money for the humanitarian charity Helping Hands along the way.
The Tele first spoke to the couple last year after they announced the trip and caught up with Donna as she made a flying visit to Scotland to help her parents Ben and Cath move home.
"The car's almost ready and Kevin and I are ready," said Donna, who spent the first 14 months of her life in Stobswell before her family emigrated to Africa.
The couple have spent about 200,000 rand (just under £12,000) preparing their customised Land Rover Defender — nicknamed "Landie" — for the epic journey.
Among the mod cons are a fridge freezer, solar panels and a dedicated power supply, an electronic roof tent and awning and a fold-down kitchen.
Landie also boasts a long-range fuel tank, a 40-litre water tank, spare air filters and bolstered suspension.
Donna added: "A lot of people modify their Land Rovers — but we've probably done more than most. We'll be very comfortable."
Donna and Kevin will leave Dundee from the home of one of the city's founders, who arrived from Mole Hill Farm in Forfarshire in the late 1800s.
They'll be escorted out by a parade of local Land Rover and Harley Davidson club members.
The couple have previously acknowledged that the volatile political situation in some African countries could present a challenge.
Donna's mum Cath wasn't slow in sharing her own trepidation.
She said: "The situation could change in Africa without notice.
"But I know they've done a lot of trial runs so they know what to avoid.
"I wish it wasn't just the two of them but you can't just up and go away on something like this."
Donna said the preparations were building up to a now-or-never moment.
She added: "We've never done a journey as long as this. We know the trip could change, as situations between countries in Africa change all the time.
"But we've been preparing for it for so long that we're ready to go."
The pair will be logging their journey on social media, via the Facebook page "Dundee 2 Dundee".