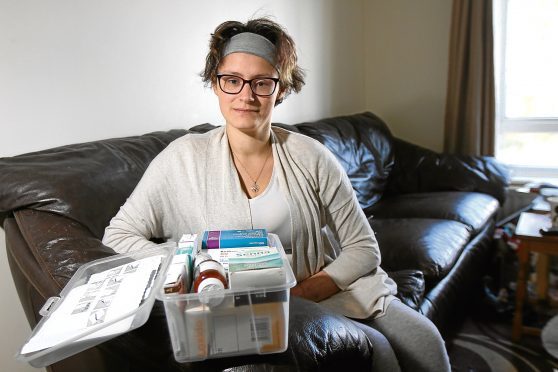 A Dundee woman has spoken of her battle with diabetes, which has seen her hospitalised 20 times this year.
Shona Grant, 25, is a Type-1 diabetic and her body produces no insulin, meaning she relies on injections to maintain her blood sugar levels.
She told the Tele that she has been rushed to hospital 20 times this year and she "would have died" if it wasn't for receiving emergency treatment.
Shona, who lives in the Ardler area of the city, has spoken out in the hope that she can raise awareness of the complexity of the illness.
She said: "When I was first diagnosed, I struggled to control it.
"It was at the stage where I would get to the hospital and they would just send me straight to the High Dependency Unit."
Shona said that to keep a handle on her severe diabetes she needs to weigh and log everything she eats and correlate the data with her blood sugar levels.
She added: "On paper, it doesn't seem very complex but it's really not that simple.
"You need to weigh out everything you are going to eat and then try to keep track of the amount of carbohydrates you are putting into your body. If you end up calculating it wrongly, even if you are out by a few grams, then that can throw everything.
"Becoming ill can be an issue too. If you have an infection, or you can't eat properly, then that can have a big impact on diabetes."
Shona said that her frequent hospital trips were usually because her body had gone into a state of diabetic ketoacidosis.
Consistently high blood glucose levels can lead to a condition called diabetic ketoacidosis (DKA).
This happens when a severe lack of insulin means the body cannot use glucose for energy and starts to break down other body tissue as an alternative energy source.
Ketones are the by-product of this process. Ketones are poisonous chemicals which build up and, if left unchecked, will cause the body to become acidic – hence the name acidosis.
Without treatment, Shona said that she could die from the condition.
She also said she suffered mentally from the physical strain the illness put on her.
She added: "I went through a really rough patch when I was first told that I had diabetes. I became really depressed and ended up being admitted to Carseview.
"Everything had all come at once and just built up — I was suicidal.
"I went in for a few weeks and was given treatment and my outlook became much more positive now."
Shona said she now plans on putting her experience to good use and helping others who are facing a similar battle against the illness.
She added: "I had a lot of plans for when I was leaving school but everything kind of came crashing down with the diagnosis.
"I really want to help other people who are in the same situation.
"I have applied to become a volunteer at the patient bank project.
"I think my experience will mean that I can get through to people.
"I know that it wasn't until I met someone else who had diabetes that it all made sense to me."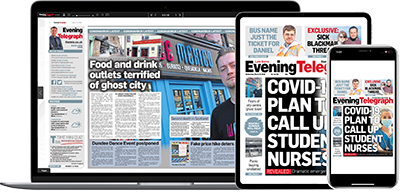 Help support quality local journalism … become a digital subscriber to the Evening Telegraph
For as little as £5.99 a month you can access all of our content, including Premium articles.
Subscribe