Dundonians with experiences of drug addiction are to feature in a documentary on Holland's second-largest news channel.
Dutch broadcaster RTL News visited the city last week to speak to local people about their addiction problems and compare the issues with those faced in the Netherlands.
The TV crew's visit was partly prompted by an Evening Telegraph article in May about local mum Carol Evans and her daughter Kelsey.
They spoke to the Tele about Kelsey's battle to beat her addiction after we revealed there were a record 72 drug-related deaths in Dundee in the previous 12 months.
The figure also put the city at the top of the table for drug deaths in Scotland as a whole.
During their time in the city, the news channel spoke to Carol and Kelsey, visited the Eagles Wings Trust charity and went out and about on the streets to speak to local addicts about the issues they face.
RTL's London-based reporter Anne Saenen said that, like Dundee and Scotland as a whole, Holland had very high numbers of addicts and deaths.
She said: "We watched a Channel 4 documentary about Dundee's drug addiction problems and we also saw articles in the Evening Telegraph, so we thought it would be a good idea to come to the city to see for ourselves what is happening.
"We also wanted to look at how the situation is being addressed in Dundee and how that compares with what's happening in the Netherlands.
"We thought we could learn something from Dundee's initiatives and also share what's currently happening in our country."
Carol said that she and Kelsey were happy to be interviewed by the Dutch channel.
She said: "They explained to us that there were similar issues in Holland.
"We thought if we could speak about what we face it might help to address the drugs problems on an international level.
"They obviously have very similar issues to ourselves. We wanted to highlight what's happening here.
"I think dialogue between countries would be a great way to look at the problem on a bigger scale.
"It shows that it's just not Dundee that's badly affected."
Mike Cordiner, founder of the Eagles Wings Trust, said the charity had also been keen to speak to the channel.
He said: "They came and interviewed staff but also spoke to service users.
"We wanted to tell them that although Dundee undoubtedly has drug addiction problems, there is also a lot of positive stuff going on in the city to tackle these problems.
"I would like to think that by speaking to the channel about what's happening in Dundee, it might have a beneficial effect.
"I think we have to be open about what's happening. There's a lot we can learn from each other.
"We talked about mistakes that have been made in Dundee but also about what's working in our battle against drug addiction.
"I'm sure there is a lot we can learn from sharing dialogue with other cities in Europe.
"We are not the only ones facing this battle and finding out about other countries drugs policies can only be useful.
"I hope that by sharing our experiences we can find a way forward."
The programme is due to be aired in Holland within the next week.
'We realised our countries had a lot in common'
According to the Dutch reporter who came to Dundee to film a documentary on the city's drugs problems, the situation in the Netherlands is equally problematic.
Anne Saenan said that it was the growing drugs problems in her own country that prompted her channel RTL News to come to Scotland to investigate what's happening here.
Anne said the situation in the Netherlands had worsened considerably.
"When we started our research we discovered that Scotland also had a serious problem and that Dundee was the worst city for drug deaths in the past year," she said.
"In terms of Dutch figures, I know that drug deaths in the whole country have doubled since 2010 to 235 in 2016.
"On that basis we realised we had a lot in common and chose to come to see what comparisons there were and what our two countries could learn from each other."
The most recent report published in the Netherlands said that cannabis was the most common illicit substance used by the Dutch adult general population aged 15-64.
The Netherlands Country Drug Report 2017 said that was followed by MDMA and cocaine.
The report added that the use of all illicit drugs was concentrated among young adults aged 15-34.
It said: "The gender gap regarding cannabis use remains wide.
"Last year, prevalence of cannabis use among young adults was approximately 1.5 times higher among males than among females, while last year cocaine use is reported to have been three times higher among young males than among females."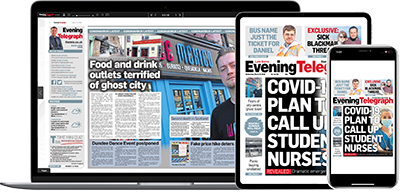 Help support quality local journalism … become a digital subscriber to the Evening Telegraph
Subscribe