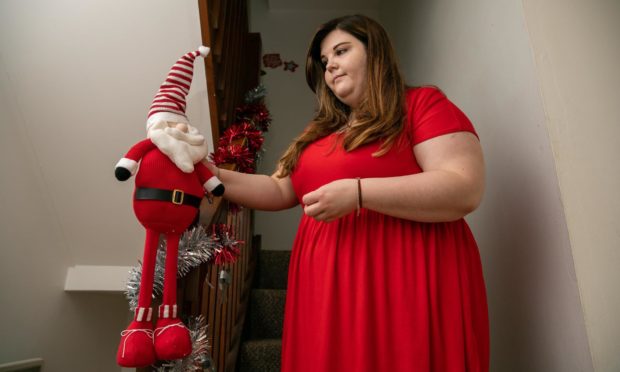 No one could be blamed for embodying the festive spirit of Ebenezer Scrooge this year after everything that 2020 has thrown at us.
However, despite the trials and tribulations of lockdowns, Level 3 and Covid-19, many people across the city are going full-steam ahead to make this Christmas a cracker.
As the dust barely settled on Guy Fawkes, people delved into their attics – and their wallets – to start festive celebrations a considerable number of weeks earlier than usual.
Putting up a tree in early November is usually associated with Christmas 'diehards' but many have happily admitted to joining that club for the first time ever.
'Something positive to look forward to'
Former Menzieshill High School pupil, Kirsty Inglis, said she wouldn't usually deck her halls until December 1, but this year was the exception.
The 29-year-old said: "It hasn't been normal by anyone's standards this year.
"It just made sense to get the tree up and have something positive and exciting to look forward to. I put mine up on Monday and I'm glad I've done it.
"Usually the tree would go up on the first of December but I have seen more people going earlier this year than normal, particularly when I've looked on social media."
Like many others, Kirsty had seen events, including her graduation from Abertay University, cancelled in the summer.
The criminology student said: "I think that's why people are putting their energy into Christmas.
"I've already done all my shopping with regards to gifts and I think, more so than any other year, I've opted to shop more locally given the challenges local businesses have faced.
"I bought a few extra decorations for my house as well. In regards to my family we all generally live such busy lives and Christmas has always been such an important time for us.
"Hopefully, depending on what December brings we will still have a chance to celebrate Christmas Day together."
New decorations to make festive period one to remember
Meanwhile, in Douglas one household decided to ditch the usual red and green colours associated with Christmas and opt instead for a touch of pink and rose gold.
Michaela Sandeman admitted she'd splashed the cash on new decorations to make this a Christmas to remember.
The care worker said it has been a "challenging year" for everyone, before adding said she was putting her "full concentration" into the festive holidays.
She added: "Some of my friends and family have said it's still too early, but I think it's fine – especially this year.
"It took me a few hours to do the tree and get the decorations started. My husband Robert left me to it, but did ask me 'why I was doing it so early'.
"There was some discussion about doing the outside of the house as well, but we are just going to focus on the inside.
"To be honest, I would usually put the Christmas tree up in the last week of November anyway, so I just went a wee bit earlier than normal.
"I definitely have seen more people going for it this year."
The 31-year-old added: "I think people are cutting folk a wee bit of slack with regards to putting their trees up early given how challenging a year it has been for everyone."
Great reaction from neighbours 
Karen White ensured her neighbours in Angus could also get into the swing of Christmas spirit just a tad earlier than normal.
She admitted her decision to turn her house into a mini-winter wonderland had been done after her new tree arrived at her Forfar property.
Karen said: "I'm usually totally against putting the tree up in November. I bought a new one this week and, rather than carrying it up the stairs and storing it, I just decided to unbox it and get it up.
"Traditionally I would be a second week of December type of person but I'm really glad I've done it earlier this year.
"I've already had a great reaction from neighbours and residents as well. If it puts smiles on kids and folks' faces I'm all for it.
"The reaction from immediate friends and family has been 50/50. The Christmas fans have been giving me the plaudits, but my other friends were saying I should have carried it up the stairs.
"Whatever else this year brings, I hope folk can still get into the festive spirit."
---
Some of the Christmas pictures you – our readers – submitted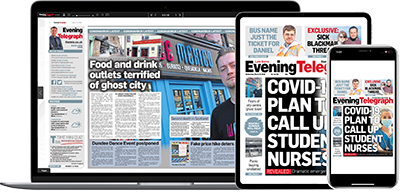 Help support quality local journalism … become a digital subscriber to the Evening Telegraph
Subscribe