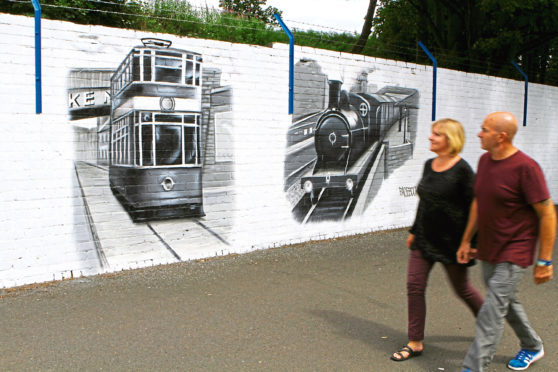 A new mural which brings to life Dundee's train and tram history has been unveiled.
Dundee graffiti artist Syke – real name Symon Mathieson – has spent the last four days documenting pieces of the city's transport past in a mural at Lochee United's ground, Thomson Park.
The boundary wall is being transformed with artwork – and Symon said it's hoped it could eventually become the longest graffiti wall in the UK.
The latest addition depicts a steam train beside an empty platform and a double decker tram travelling along a Lochee street. Trams stopped in Dundee in 1956 when the system was replaced by buses.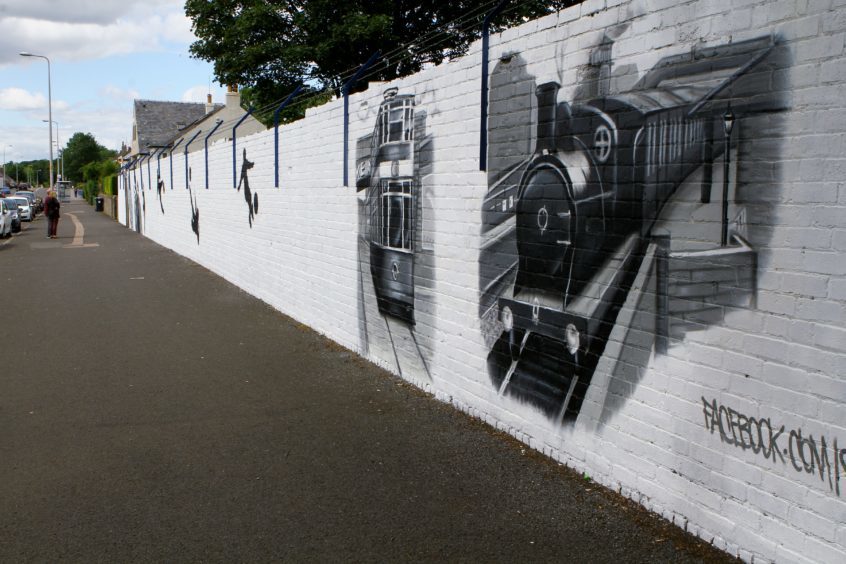 The inspiration behind the painting of the steam engine comes from a photo of a train stopped at Lochee Station in the 1890s.
Symon, 38, who runs Syke Graffiti Art, said: "I got involved last year with the Save Our High Street Lochee group as they were trying to get some artwork in the area.
"The wall on Liff Road came up as an option, as it was such a big space.
"But I felt it would work well at the football club. Lochee has a rich history, from the Irish immigration to the jute mills, and the locals are passionate about it.
"Everyone who has walked past seems to like the route the mural is going down."
Symon said he first got involved with graffiti through a youth group when he was 14.
He said: "I work with the youth groups on graffiti projects. That's what got me started and stopped me getting up to no good. It's also where my passion for graffiti art began. So it would be good to see the younger generation embracing it too."
Symon said the project will take a few months to complete and the next stage might focus more on the history of Thomson Park.
He said: "There will be some portraits and more of old Lochee.
"But the next part of it might be to do with the ground itself originally being a quarry and the stone from the quarry being used in the building of Westminster in London."
He added: "Projects like these are great for a few reasons. It pushes me to learn and to try new things. Also it's great seeing people smile as they walk past and stop for a chat."
Funding came from the Lochee Regeneration Fund and it was launched by Save Our High Street Lochee.
Symon has also created numerous other murals across Dundee including a tribute to Vincent Van Gogh's Starry Night as part of the Open Close project.
He also painted a mural as part of a fundraising effort for Garvie Winter, a seven-year-old Downfield boy who is battling cancer.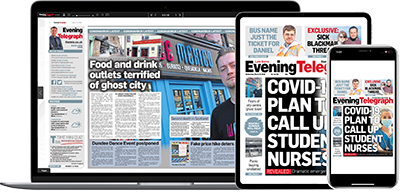 Help support quality local journalism … become a digital subscriber to the Evening Telegraph
For as little as £5.99 a month you can access all of our content, including Premium articles.
Subscribe