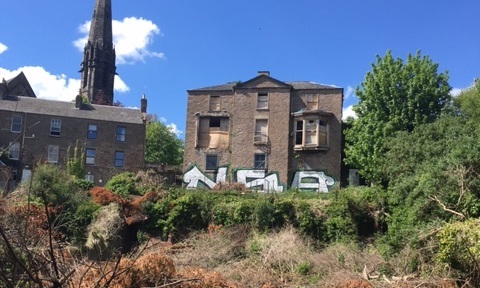 The owner of a Dundee "murder house" has claimed the building has become a prime target for vandals.
Local businessman Nael Hanna contacted the Tele after the house at 2 Roseangle was daubed with graffiti reading "NSA", which he claims stands at around 15 feet.
The Roseangle house became infamous in the 1980s after it was the site of a horrific double murder which claimed the lives of 78-year-old Dr Alexander Wood and his wife Dorothy.
Mr Hanna, who bought the house for £450,000 almost a decade ago, said he noticed the house had become a target around 10 days ago.
He said: "I took some photographs when I first saw the graffiti but now we're washing it off.
"I've already spent a few hundred pounds on chemicals trying to clean it off.
"It's oil-based paint so it's really difficult to get off. It's going to cost a lot more to get rid of it all."
He has reported the graffiti to the police and hopes that a CCTV camera positioned directly across the road will lead to a culprit being identified.
Mr Hanna hopes to sell the four- bedroom house, having originally aimed to redevelop the building as a restaurant.
However, he was forced to scrap the plans when he couldn't get a loan to bring the building up to scratch, and said the graffiti was another obstacle in his path.
He added: "I'm angry because it's a very beautiful building.
"People are spray painting here all the time. It's very frustrating because we want to repair it and put it on the market."
He also said he was worried that if the issue continued, people could be at risk.
He added: "I've got a crime reference number from the police for insurance but I'm not bothered about that — I just want to know why people were there and doing this.
"From a health and safety point of view, I'm worried. If people get in there without permission and if someone got hurt or killed then that's on me.
"They will blame me. I hope the police will help protect this very important building."
Mr Hanna said he was not sure what "NSA" stood for.
The Roseangle house has an illustrious history that many Dundonians will not forget in a hurry.
The Grade C listed building was constructed between 1819 and 1820 under the orders of merchant banker and ship owner David Martin.
Some time after the double murder in 1980, the building was leased to a group of students who lived there for two years.
However, the building has lain abandoned and grown dilapidated ever since.
A spokeswoman for Police Scotland said: "Police Scotland is aware of the concerns and is making inquiries into the graffiti. This type of anti-social behaviour can be can be unsightly and creates a negative impression of our communities.
"We would ask the public to assist us by considering whether they have seen anyone in possession of aerosol paints in public places."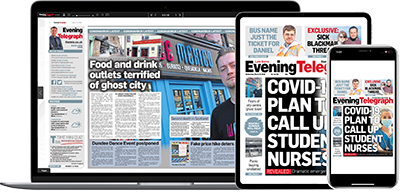 Help support quality local journalism … become a digital subscriber to the Evening Telegraph
Subscribe