Improving reading, writing and counting among Dundee pupils is high on the agenda of the councillor just appointed to take over responsibility for education.
However, Stewart Hunter is no stranger to the post. He was the local authority's convener of education and, more recently, of children and families services for five years, until the local government elections last May.
His reappointment has just been confirmed following the resignation of Gregor Murray earlier this month.
In an exclusive interview with the Tele, Mr Hunter said he was looking forward to the challenges that lie ahead.
He is taking over the reins following the publication of the local authority's annual "report card" which details the highs and lows in education in the city in the past year.
The report shows that, overall, the council has reached its targets in 55 out of 90 key areas in all services.
Mr Hunter said: "I'm coming back into the post at a time when we have had some major successes but also recognise that we have a lot of work to do to get it right for every child in Dundee.
"My personal ambitions include improving numeracy and literacy and the health and well-being of children and tackling the ongoing problems of bullying of pupils and teachers in city schools.
"There have been a lot of recent successes, including closing the attainment gap, expanding early years education and halving exclusion rates."
The council's progress report for the year 2017/18 stated: "Significant improvements are being measured in literacy and numeracy results in P7 which are at the core of the curriculum for excellence and closing the attainment gap.
"Increasing the percentage of pupils leaving school with SCQF level five literacy and numeracy is a key area and this year continues to see significant improvement.
"This is supported by results in P7 which saw a large increase in the percentage of children achieving targeted levels in reading and numeracy."
Mr Hunter said: "We have made significant strides in literacy, aided primarily by the Read, Write, Ink project and the plan is to look at this with a view to improving numeracy."
He said the council had also achieved major success in expanding early years nursery and childcare hours.
He added: "This is already showing that primary one pupils are hitting the ground running when they start school.
"The work that is being done with children in early years education is improving their ability to take part in primary education."
Mr Hunter said one challenge which he faced was improving exam results for looked-after children.
The report shows that looked-after school leavers are achieving worse exam results at levels four and five.
He said: "My first challenge will be to discover the reason for this.
"There could be issues outside of school that are impacting on looked-after children at exam time.
"We need to find out what these issues are and how we can support these children and help them improve their results.
"I also want to ensure that exclusions continue to drop while finding a way to ensure that all children receive a fulfilling education."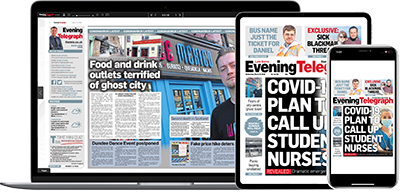 Help support quality local journalism … become a digital subscriber to the Evening Telegraph
Subscribe