A popular nightclub that closed earlier this year is set to reopen under new ownership and with a brand new name.
Liquid nightclub, on Ward Road, will be transformed into Carbon and Kush in time for students returning to the city in early September.
The club has been taken over by the owner of Industry nightclub Tahir Ramzan (pictured), who promised the venue would have three separate music rooms, a VIP room and a garden terrace.
Mr Ramzam said: "We will have three rooms of music to chose from and a new garden terrace to socialise in.
"Our VIP room will feel like a separate club even though it's in the same building.
"We also have fantastic promoters and DJs on board and hope people love what Carbon and Kush has to offer."
Liquid closed suddenly in March, with the club's Milton Keynes-based operator Deltic saying the decision had been taken because "the night-time economy in the city is continuing to decline".
After taking over the club's lease for the next 12 months, Mr Ramzan said: "It's an exciting time for Dundee businesses to look carefully at what customers expect from an emerging city.
"Nightife is very important for a thriving city that wants to attract people from outwith the area.
"However, nightclubs and the late-night trade have gone through a difficult time lately as trends have changed with many people choosing to stay at home.
"But to meet people you still need to go out and talk and it's our job to create these environments."
Tony Cochrane, owner of Club Tropicana on the same street, said: "We knew something was happening as we know the owners of Liquid. The more the merrier for the street."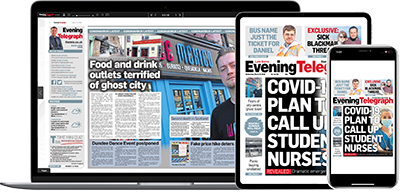 Help support quality local journalism … become a digital subscriber to the Evening Telegraph
Subscribe