Jobseekers are being encouraged to get online for the city's first ever "virtual jobs fair" next month.
Jobcentre Plus has organised the Twitter Virtual Jobsfair for Wednesday November 21, when a number of employment opportunities within the city will be advertised over social media.
Employment chiefs are hoping to switch long-term claimants on to new ways of searching for work, while learning digital skills at the same time.
Jane McEwan, work coach team leader for Dundee City Jobcentre, said: "We're really quite excited about this.
"It's the first time we've attempted anything like it. It's about being more digitally minded.
"We appreciate many claimants still use traditional methods when searching for work when more and more companies are advertising and communicating over social media."
Between 11-11.15am the job- centre will be tweeting opportunities from its @JCPinEastScot Twitter handle, using the hashtag #dundeejobshour.
Ms McEwan said: "We're keeping it short for the first time but if it's successful we will hopefully make it longer."
Meanwhile, latest figures show the number of those claiming out-of-work benefits in Dundee has dropped for the first time in almost a year.
Figures show there were 85 fewer claims in September than August, from 4,500 to 4,415.
It is the first time the number of claimants in Dundee has fallen over the course of a month since November 2017.
Of those still claiming 930 were aged 18-24, 2,895 were male and 1,520 were female.
Ms McEwan said: "It's always encouraging to see a drop in the number of claimants, although we often see a small reduction around September as some younger claimants go to college or university."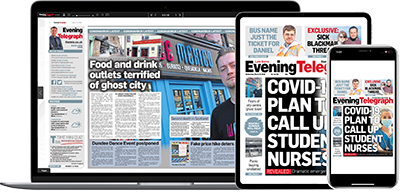 Help support quality local journalism … become a digital subscriber to the Evening Telegraph
Subscribe