Dundee's monthly Farmers' Market is set to expand in the near future.
The local council has invited companies to bid for a contract to develop the existing market by identifying what it calls "innovation and development opportunities".
It would mean the council handing over full responsibility for the market to an external provider responsible for managing staff as well as being the first point of contact for any issues.
The deal could even see the market expanding beyond its current offering of up to 25 stalls, subject to approval by the local authority.
However, it will not cost the council any money, with the successful bidder instead taking a cut of the market's income.
A document included with the council's tender detailing exactly how the handover would work said: "The market operator has the opportunity to expand the Farmers' Market beyond the 25 leased stalls by providing their own additional stalls.
"The additional market stalls are subject to the (council's) approval.
"The market operator will act as the first point of contact for traders and shall ensure adequate supervision of all staff."
At present, Dundee's monthly market offers produce from local firms including 71 Brewing, Arbroath Fisheries, gin distilled by Eden Mill and Arbroath ceramics firm Eeksie Peeksie.
Despite handing over the reins to an external operator, the council has insisted local goods remain the flavour of the month.
The procurement document continued: "Wherever possible and without contravening any legal requirement, the service provider should endeavour to purchase local produce.
"The market operator should operate purchasing practices that maximise reduction of 'food miles'."
City development convener Lynne Short said expanding the market was a good way to encourage more spending.
She said: "I very much enjoy the fact we can take advantage of the space we have in the city centre for markets like this, which can be used by local businesses.
"A pound spent in local shops in the city centre will likely stay in the city."
The deal is guaranteed for a year, starting this April, with an option to continue for up to two years there-after if it is deemed successful.
The market currently runs on the third Saturday of every month from February to December.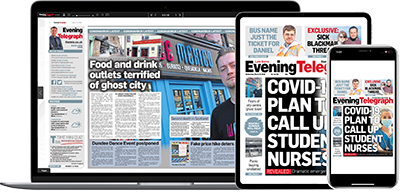 Help support quality local journalism … become a digital subscriber to the Evening Telegraph
Subscribe