A Dundee woman who paid more than £4,500 to take a shower claims she was never told why she was paying the shower tax.
Lizzy Claasan, 59, first moved into her Charleston home in 2011, after being forced to rebuild her life following the death of her beloved husband while living in South Africa.
Since first reporting on the city council's shower tax, members of the public have told the Tele how the charge has gone unnoticed for more than a decade. Lizzy said: "I had to declare myself homeless and got on the list for a council flat. Because I moved to South Africa when I was 12, I had never rented property in the UK before."
She was soon offered accommodation on Craigowan Road but was unaware she was getting charged extra just for taking a shower. She said: "I noticed there was a £10 per week charge for the shower and I thought that was how rents were broken down.
"I spent three months on benefits but managed to get a job at a call centre and made new friends. But it was only when I mentioned to someone about the charge I found out it wasn't right."
Lizzy asked the council to remove the shower from her flat but it refused to do so.
She added: "I asked them to remove mine – they refused. It was already installed when I moved in so I didn't get the choice of whether I wanted it or not.
"Over the last seven years I have paid £4,630 for a shower which doesn't have the right type of door. It's got two little half doors to get a chair in because the previous tenant was disabled. I have never had any letter through the door for rent meetings about it either.
"I even went to the ombudsman and was abruptly told that the charge stands. I think it's unfair and an infringement on basic human rights.
"Having a shower is not a luxury – where does the council draw the line?"
A council spokesman said: "If the tenant would like to contact us directly we'd be happy to discuss their concerns."
The Tele revealed earlier this month some residents are still paying for shower facilities installed in council homes in 2007.
Council leader John Alexander said: "If the charge was to be removed the council would have to find almost £600,000 to balance the budget.
"This would mean cuts to other housing services or the equivalent of a 1.25% rent increase across the board."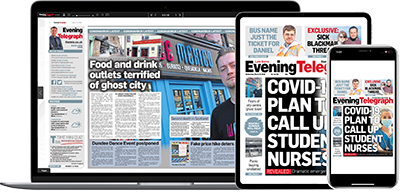 Help support quality local journalism … become a digital subscriber to the Evening Telegraph
Subscribe