A woman has spoken of her horror after finding her "lifeless" cat two months after it disappeared – amid fears the pet was deliberately attacked.
Louise McCallum, 19, of St Boswells Terrace in St Mary's, says she feared Shadow was tied up in barbed wire or rope before being discovered at the bottom of the garden yesterday.
Louise, who also own three other cats, said she found Shadow covered in blood.
The three-year-old pet had injuries to her neck underneath her collar along with injuries to her front and back legs.
Louise said she and her husband Alistair fear Shadow was hurt deliberately.
It comes just a matter of days after 14-year-old cat Levi was shot with an air rifle.
The incident was thought to have happened in the St Mary's or Clatto areas of Dundee some time on July 25 or 26.
Louise said after the incidents she is now concerned about letting her other cats Ellie, Simba and Nova outside.
She said: "We were calling the cats back into the house when we discovered Shadow – she had been missing for around two months.
"She does like to explore but the longest she has been away for is two weeks, so I was concerned she had been missing for so long.
"When I found Shadow, I genuinely thought she was dead. Her collar was completely covered in blood.
"To me, it looks like something has been wrapped around her collar so I don't think it has been an accident. She was smelling of rotten flesh because of the open wounds.
"We took Shadow to Parkside Vets and she was in surgery for a few hours.
"I can't thank the vets enough for everything they've done.
"The vets told us her injuries looked as if rope or wire had been wrapped around her.
"After hearing about the incident with the air rifle, we were obviously extremely concerned.
"Shadow has been terrified to go back outside because of what has happened to her.
"If incidents like this continue to happen I think we will consider moving."
Shadow is now back home recovering and will be taken to the vet again on Friday.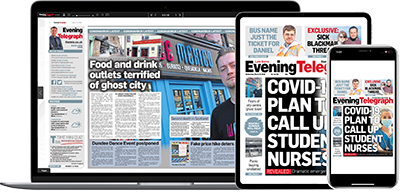 Help support quality local journalism … become a digital subscriber to the Evening Telegraph
Subscribe