Two friends have raised £14,500 for Macmillan Cancer Support after climbing Africa's highest mountain in memory of their lost loved ones.
Laura Kennedy, 33, and Kim Thorne, 49, spent six days hiking to the summit of Mount Kilimanjaro – trekking through a rainforest and a blizzard in the process.
Laura, a massage therapist from Broughty Ferry, lost her mum, Lauraine, to cancer in February.
She said: "My mum passed away 17 months after her diagnosis after being given three months to live.
"She was always very determined and strong – I felt like she pulled me through the climb."
Kim, general manager at the Odeon cinema, lost her sister, Tracey, to cancer 27 years ago.
She said: "My sister died aged 25 and it was on my mind, as I approach my 50th birthday, that I am twice as old as she was when she passed away. I've spoken a lot about her recently and it feels like she's been with us again."
The women spent nine hours every day hiking up the mountain in Tanzania, while carrying bags and walking equipment.
The pair had just two hours' sleep before they embarked on the final leg of the climb, on Thursday.
Kim said: "It took nine hours to get to the summit on the sixth day and the altitude made most of us sick.
"I was out of breath and vomiting – I just had to keep thinking about the reason I was doing the climb.
"I kept thinking about all the people who have suffered with cancer."
Laura said it was the hardest thing she has ever done – and that it has changed her life.
She said: "It's made me realise that I'm stronger than I thought I was.
"Even if you don't think you can do something, you should always give it a shot."
The women also praised the Tanzanian organisers from Discover Adventure, who helped them through the journey.
Laura said: "If it wasn't for them, it wouldn't have happened – they make dreams come true."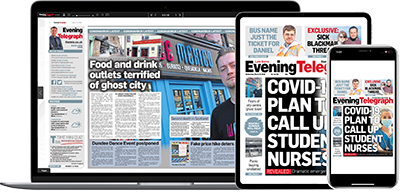 Help support quality local journalism … become a digital subscriber to the Evening Telegraph
Subscribe