A woman has recounted the moment she came face-to-face with a drugged-up maniac just minutes after he had attacked a golfer with a chainsaw.
Michelle Hunter found 45-year-old Joe Henry Brown on her doorstep on Kingsway soon after he had slashed Arthur Innes with a power tool at Caird Park Golf Club on May 2.
The 54-year-old and her daughter Tara, 23, both spoke to the bare-chested thug for several minutes before police piled into her driveway and arrested him.
Speaking after Brown pleaded guilty to attempted murder, Michelle said: "He was mumbling and incoherent so it appeared he was having some sort of breakdown.
"I phoned an ambulance and he collapsed at that point. When he came he was rambling about God hating him and making him do 'bad things'.
"After a wee while he told me he thought he'd killed two people in the park. He kept asking if they were OK, he said he couldn't believe he'd done it.
"At this point I wasn't sure if any of it was true, I told the ambulance operator this and she said police would come."
Despite the circumstances, cool-headed Michelle kept the attacker calm and talking until officers arrived.
"He said he wanted to die and tried to get up and away to try to kill himself," she said. "I feared he would cause an accident on the road so tried my best to keep him at bay.
"He picked up a boulder that was beside him and begged me to hit him over the head with it and kill him so he could stop doing bad things.
"All this took about 25minutes of me keeping him calm and getting him to stay where he was."
---
>> Keep up to date with the latest news with The Tele newsletter
---
In the High Court in Glasgow on Thursday advocate depute Owen Mullan said Brown, a father-of-three, was "topless, shoeless and shouting and swearing" during the attack on Mr Innes, with eyes "bulging out of his head". After leaving his victim with a two-inch laceration to his upper arm, he made his way along Kingsway – where a driver had to take evasive action.
He then ended up outside Michelle's house where the ordeal lasted a further 25 minutes.
Sentence was deferred until October 26 and Brown was remanded in custody.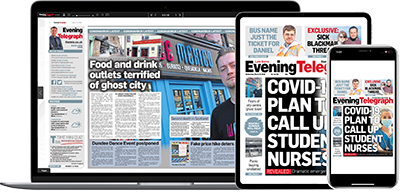 Help support quality local journalism … become a digital subscriber to the Evening Telegraph
Subscribe