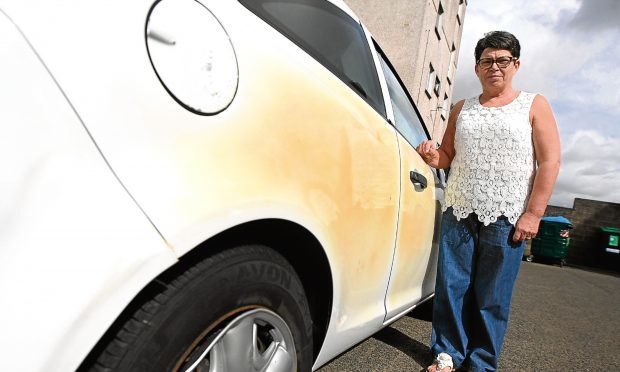 A Dundee woman whose car was damaged after a bin was torched says someone could be killed if firebugs continue their spree of devastation.
Jacqueline Wilkie, 55, of Menzieshill, woke in the early hours after hearing the chatter of youngsters, just minutes before firefighters had to tackle flames erupting from a bin next to her car.
The vehicle, which was filled to the brim with petrol, was parked on Tweed Crescent at the time.
The flames damaged Jacqueline's car — which could cost hundreds of pounds to fix, mechanics said today.
It comes after a spate of bin fires in the Pitalpin area of the city, next to Charleston, earlier this month and the devastating blaze at the Mill o' Mains pavilion.
Jacqueline, who is a theatre support worker at Ninewells Hospital, said: "I'm just really angry.
"If the people responsible are under 16, the parents have to be held accountable.
"I had just filled my car up, so it was a full tank. If that car had gone up, there could have been a casualty.
"Someone is going to get killed if these incidents don't stop."
The blaze began in the early hours of Monday morning and a neighbour alerted Jacqueline.
She said: "I had been on a backshift and I was half asleep when I heard kids shouting. Shortly afterwards my neighbour chapped the door and I heard them telling my husband something about my car.
"It turned out the firefighters were already answering a call on Dochart Terrace and they saw the smoke.
"The car was parked right next to the bin that was set alight.
"It's pretty badly damaged. The bumper, petrol cap and the wheel trim are damaged and the side of it is smoke damaged too. I'll have to pay £250 in excess no matter what for the insurance, but it's more of an inconvenience than anything else.
"I can walk to work, but we only have the one car, so it makes shopping much more difficult."
A Scottish Fire and Rescue Service spokeswoman said: "We attended a wheelie bin fire on Tweed Crescent at 2am and there was a motor vehicle damaged because of it. One appliance from Blackness Road attended."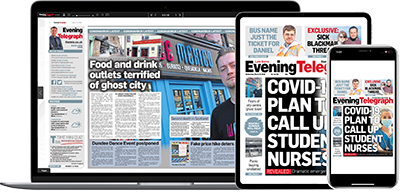 Help support quality local journalism … become a digital subscriber to the Evening Telegraph
For as little as £5.99 a month you can access all of our content, including Premium articles.
Subscribe