Four years ago, when she was only 17, Rebecca Smith was raped by a boy she had befriended.
Now 21, Rebecca has taken the courageous decision to waive her right to anonymity to speak publicly about what happened to her and is urging other women and girls in the same situation to find help for themselves.
But her plea comes just as Dundee and Angus's Women's Rape and Sexual Abuse Centre (WRASAC) has just announced that it is being forced to cut some of their services, including its helpline and drop-in support.
Rebecca, from Lochee, said she had used WRASAC's services to help her come to terms with what happened.
"My attacker was never brought to justice for raping me," she said.
"I went to the police and reported it but ended up feeling violated for a second time as I had to be photographed naked and talk about my ordeal.
"I went through all of that and he was never made to pay for raping me.
"That just made everything worse. I have had four years of hell since the attack and now I've decided to open up because I want to help others.
"I want to encourage anyone who has been raped or sexually attacked to seek help. They need to go and ask for help.
"I eventually found the courage to approach WRASAC but it was a very hard thing to do."
Rebecca said she became a virtual recluse after the attack.
"I didn't want to socialise any more and I was terrified to go out. I was especially afraid to be around men," she said.
"When you're raped you end up believing, wrongly, that you are somehow guilty and responsible. That is so not true, but so many women don't realise that.
"You can't allow yourself to be defined by what has happened to you. I suffered for years but now I'm trying to rebuild my life. I feel I want to tell my story to get the message out there that life can continue after an ordeal like this.
"It might not feel like it at the time, and it has taken four years of my life, but I'm getting there now.
"There was a long time that I just kept reliving what he did to me, but I know I have to get past that if my life is going to improve.
"If by speaking out I can help at least one other woman to feel better about herself, then I will feel it has been worth it."
Rebecca said she was disappointed to learn that WRASAC was having to cut some of its services.
"I takes a lot of courage to ask for help and when you do you really need it there and then," she said.
"I was never offered victim support and it was left to me to find help myself.
"It is out there, but if groups like WRASAC are being forced to make cuts it's going to make it harder for people like me to just drop in and ask for help."
A WRASAC spokeswoman said: "From September 1 we will no longer be providing helpline or drop-in support.
"This comes following a detailed review of our support service.
"Because of increasing demand for support and growing waiting lists, we have had to take some difficult decisions to free our staff up to be able to provide more direct support to survivors of rape, sexual abuse and/or exploitation.
"However, we will continue to offer telephone support and crisis support sessions.
"This was a very difficult decision for WRASAC to take but we had no option because of the demand on our services."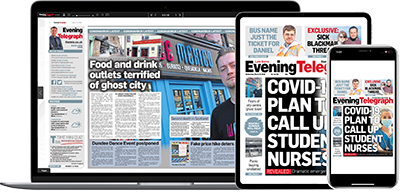 Help support quality local journalism … become a digital subscriber to the Evening Telegraph
For as little as £5.99 a month you can access all of our content, including Premium articles.
Subscribe