A Dundee woman has spoken of the "heart breaking" scenes she witnessed on an aid-giving mission to Lebanon.
Sophia Younis, 25, travelled with friend Aishah Anwar, 24, on an international volunteer deployment programme for four days with Action Relief, in partnership with Muslim Aid – both Islamic charities.
The pair, who studied at Morgan Academy together, travelled to the Middle Eastern country to hand-deliver food parcels to Syrian and Palestinian refugees.
An estimated 2.2 million refugees from Syria are in Lebanon, displaced following the Syrian Civil War.
Between 175,000-500,000 Palestinian refugees are thought to be in Lebanon, having left the war-torn region intermittently since the 1948 Palestine war broke out.
Sophia, who works part-time in a call centre, said: "The time flew by, even though each day was long and tiring, but the experience was worth every single moment.
"When you meet families who are facing adversity in the form of illness, death and poverty it changes the way you see the world.
"We worked hard packing boxes and hand-delivering food parcels to Syrian and Palestinian refugees in South and North Lebanon camps.
"We played football with the young kids and braided and styled the little girls' hair. The smallest of gestures went a long way.
"Many Syrian refugee families lost their loved ones and it was upsetting hearing their stories.
"We met a grandmother who lived with her son, daughter-in-law and four grandchildren in a very small room. Her heart breaking words were, 'I would rather eat the sand of Syria than live like this'.
"We can never understand the pain and suffering these people are experiencing even though they are 'safe'.
"I met a beautiful young woman who was made a widow during the Syrian crisis. As she told her story, I could feel the tears running down my face and emotions were high on so many levels. I could not help feeling selfish and tried to stop myself from crying in front of her.
"These women are so strong and so determined to make the best out of what they have, even though they have been through so much turmoil and heartache. I was amazed by their generosity."
Sophia said the Palestinian camps were quite different from the Syrian ones. There were third and fourth-generation refugees, whose grand-parents had been born in the camps.
Sophia said: "One woman's parents had fled Palestine in 1948. She was born in the camp, had given birth in the camp and was now 70 years old and a grandmother herself. Their conditions were better as they had turned their houses into homes as much as they could.
"They had things like rugs and cushions they had acquired over the years. But most people were living in little shipping containers or shacks.
"Every camp we visited, they invited us in to have tea and coffee with them. Children were fighting to hold my hands. I was getting pulled in all directions as they were excited to play football or get their hair done.
"We have truly been inspired by the kindness and generously of the wonderful refugees.
"I started out on this deployment with the intention of helping refugee families.
"I return home having learnt so much from them and feel humbled by the strength they show in such difficult circumstances. It's something I would love to do again."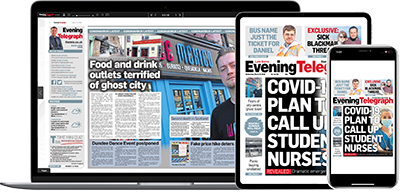 Help support quality local journalism … become a digital subscriber to the Evening Telegraph
For as little as £5.99 a month you can access all of our content, including Premium articles.
Subscribe