A bride-to-be will walk down the aisle in style thanks to the Evening Telegraph.
Louise McDonald, 22, from Charleston, was named the winner of our Wed in Style competition during the Scottish Wedding Directory's fashion show, held at DCT Media's Meadowside HQ.
Tele readers were invited to collect points in an innovatve fruit machine- style competition which used digital technology to create tens of thousands of unique gamecards.
Louise topped the list of five finalists to win a Justin Alexander gown worth up to £1,500, sponsored by Alison Kirk Bridal, kilts for fiance Graeme Boyd and five groomsmen courtesy of Kilthire Company and her carriage for the big day in the shape of a classic vintage car, sponsored by the Lovely Wedding Car Company.
She said she was "in total shock" after discovering she had won the big prize.
"I'm over the moon. I started shaking when I found out," Louise added.
"Graeme would finish work at 9.30pm and I would tell him to run to the shops to get more papers."
Graeme proposed on a Ferris wheel in Malaga in October last year.
"I'm scared of heights," said Louise. "He said he wanted me to face my fears."
The couple have set a date of February 20 2020 and joining them on the day will be their children Ryan, 3, and one-year-old Calli.
Louise said: "Graeme chose the date because it's memorable and he won't forget the anniversary."
Runners-up in the competition were Wendie Norrie, Sarah McDougall, Evelyn Raitt and Sarah Hendy,and they all win an overnight stay at Hotel du Vin and £100 of vouchers to spend in its bistro.
Tele editor Andrew Kellock said: "Congratulations to Louise and Graeme and a big thank you to all our sponsors in what was a fantastic competition."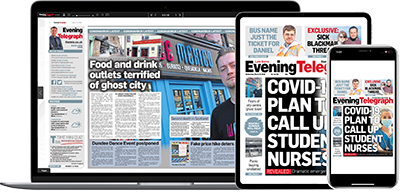 Help support quality local journalism … become a digital subscriber to the Evening Telegraph
Subscribe