A Dundee woman has opened her heart to relive the harrowing childhood sex abuse which drove her to drugs and prostitution.
Lisa Diduca, 31, who lives near Lochee Park, waived her right to anonymity to speak about the ordeal she endured between the ages of 3 and 10.
Now, the mum-of-five wants to reach out and help others who have experienced similar horrors at the hands of sex attackers.
She is trying to set up a charity which will help victims who require support and advice.
Lisa said: "I was sexually abused as a three-year-old and it went on for about seven years.
"My memory isn't so good generally, but I can remember the abuse all so clearly.
"At the time, I would try to blank it out.
"It happened every day, so I'd just try to forget about what happened as much as I could.
"I was told it was 'our little secret' and I would be killed if I told anyone about it.
"My mum was an alcoholic but she was a hard worker — I don't blame her in the slightest."
Going through medical examinations and the court process for her abuser's conviction was difficult and Lisa then found herself on the wrong side of the law as she grew up.
But she has been out of prison for a year now and is looking forward to the future.
She said: "I used to be a heroin addict. I turned to drugs and I took to prostitution as well.
"I know I'm to blame for doing that because it's my choices, but I do think what happened to me as a child had an impact on me doing these things and being the way I am today.
"But I've been clean for two years now and I'm working towards getting my daughter home living with me.
"I have another daughter home already and they are just my world.
"I've worked really hard to get where I am now and I've done this all by myself, but I think my kids are why I get up every day."
Lisa still has her demons, but she is determined not to let what her abuser did ruin her life forever.
She said: "I still struggle with my mental health because of what he has done.
"I suffer from anxiety, I'm still terrified of the dark and I was diagnosed with PTSD.
"I've been out of prison for about a year now and while he has ruined 30 years of my life, I won't let him do it for any longer."
Lisa's plan is to try to apply for funding to set up her own charity to help people who have suffered any kind of abuse.
She said: "I'm in the middle of making my own charity and I'm hoping to get that up and running soon.
"I just hope that in a few years I will have helped many people.
"I want to help bring awareness to all the lonely, scared kids, the mums that are in a violent relationship, men who are getting physically or sexually assaulted or anything to do with abuse.
"I want them to get help.
"If it is going to save one person's life from predators so be it.
"My message is: you are not alone.
"We're survivors and must stand together.
"I want to get out in the community and provide a safe place for people to come to speak with me.
"I actually put up a Facebook post recently talking about what happened to myself and the reaction from it was incredible.
"I've heard some awful stories from people who experienced similar abuse and I want to help them.
"Separate people have gone to the police to report things on the back of seeing my post."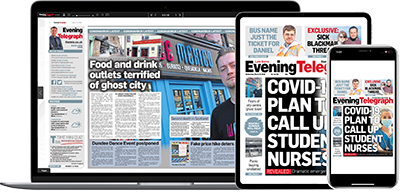 Help support quality local journalism … become a digital subscriber to the Evening Telegraph
Subscribe