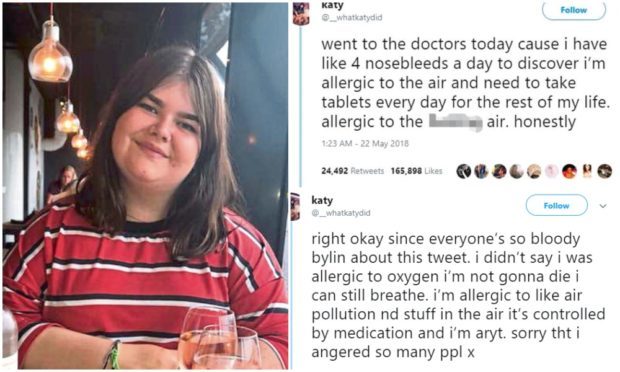 For years, mystery nosebleeds kept Katy Dallas out of school and left her scared to socialise.
The Stobswell lass has spent most of her teenage years in daily discomfort because of an unusual reaction to air pollution.
Katy was diagnosed with having serious allergic reactions and has to take three forms of medication to bring it under control.
As well as nosebleeds, the 19-year-old suffers from excessive sneezing and itchiness in her nose and eyes.
Katy said: "I used to get nosebleeds all the time and it was really bad for a while.
"I was frightened to go out for dinner for fear of it happening and I was always in and out of school because of it.
"I wake up sore most mornings but when I take the medication it's under control.
"When I was about 16, I finally went to the doctor because it was happening about four times a day and I was told there was basically nothing they could do.
"However, when I went to another doctor she told me it was like an allergic reaction to air pollution but they don't actually know what causes it.
"I used to live in the countryside when I was younger and it has got a lot worse since I moved into Dundee. I would say it's like hayfever but about 10 times worse.
"Now, though, it's finally starting to get under control."
The GP receptionist's daily life has improved significantly since she was put on treatment which includes taking tablets as well as using creams and nose sprays.
Katy recently took to social media to post about her allergies and ended up going viral on Twitter as well as being on the receiving end of vile abuse.
After making a lighthearted gag about being "allergic to air," she was hit with messages which included people saying it would be cheaper for the NHS if she died.
"It was just ridiculous the number of people who were commenting and it's still going up. It was well over 100,000 the last time I checked," she said.
"I could probably have worded it better if I had known so many people would see it because they thought I was allergic to oxygen – which is completely wrong.
"I'm still getting messages now from people about it so I'm quite happy with the fact that some of them feel more open about it or are happy to speak."
The former Harris Academy pupil says she received a number of supportive messages from people suffering from similar conditions.
Katy added: "I got some really nice messages from people saying they had the same thing."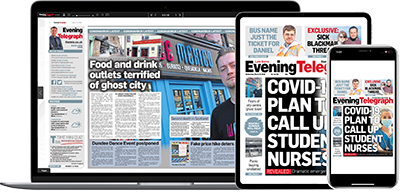 Help support quality local journalism … become a digital subscriber to the Evening Telegraph
Subscribe