A Dundee woman has spoken of her heartbreak after her American partner was deported back to her home country by authorities.
Alice Horton, 24, was due to meet her partner Alice Carroll – a Minneapolis native – at Edinburgh Airport last Tuesday.
The pair had planned to spend five months together, with Alice travelling on a tourist visa from the United States.
However, the lovers only managed to spend one day together before home Office officials disputed Alice's intentions – and sent her back to the States.
After detaining the American citizen for seven hours, officials said they did not believe that Alice was a "genuine visitor".
Alice Horton, who comes from the West End of the city, today said she was "heartbroken" and "despondent" following the decision.
She said: "My mind is all over the place just now. My partner was a vulnerable person and she practically crawled on to the plane to get here.
"Everything seemed good, it seemed like the best option for us."
Alice said the pair had thought there would be no issues with the visa – with her acting as her partner's "sponsor" – and she would support her financially. However, Alice said she had spent her life savings on paying for her partner's airfare from the United States – and now fears they will "never be together again".
The two Alices, who are both transgender women, liaised with agencies across Dundee in the hope of gaining a stay pending appeal.
Contact has been sporadic since Alice was transported back to the US.
Alice Horton told the Tele she was speaking out in the hope of raising awareness about the "lack of an appeal process" and also of support available to people in her situation.
She said: "I just feel like there is a huge organisation which is trying its best to keep us apart."
Alice is fundraising online in a bid to pay for Alice to return to Scotland.
A Home Office spokesman said: "Border Force officers will refuse individuals entry to the UK if they are not satisfied that they are a genuine visitor who will leave at the end of their stay.
"All cases are carefully considered on their merits, including an individual's personal circumstances. We do not routinely comment on individual cases."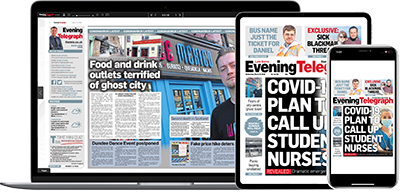 Help support quality local journalism … become a digital subscriber to the Evening Telegraph
Subscribe