A woman has described the moment police responding to reports of a stabbing mistakenly burst into her house as she was having a cup of tea.
Tracy McIntosh, 48, said she had been enjoying a "cuppa" in her home on Gleneagles Road when officers burst into her property.
But officers soon realised their mistake, and went to nearby Hoylake Place instead.
Police Scotland has admitted it entered Tracy's house "in error".
Tracy said she had a visitor when she saw the flashing blue lights outside shortly before 8pm on Wednesday.
"It all happened so fast, I was actually shaking when they left," she said. "My biggest fear was that my son Robbie had been injured.
"Then they told me a woman had been assaulted.
"One of the officers checked back in with the control room while they were in the house.
"I realise the police have to respond to these incidents quickly but the streets don't even have similar names."
A police spokesman said: "Police Scotland can confirm that on Wednesday evening officers responding to a serious incident in Ardler attended and entered an address on Gleneagles Road in error.
"The correct address was then found and the incident dealt with.
"Mistakes such as this do and will happen and we do not underestimate the inconvenience and upset they cause.
"We will be contacting the affected resident to discuss the incident with them and provide reassurance."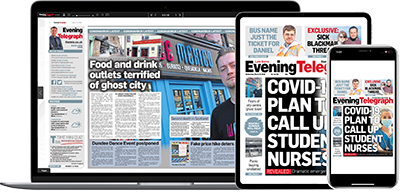 Help support quality local journalism … become a digital subscriber to the Evening Telegraph
For as little as £5.99 a month you can access all of our content, including Premium articles.
Subscribe