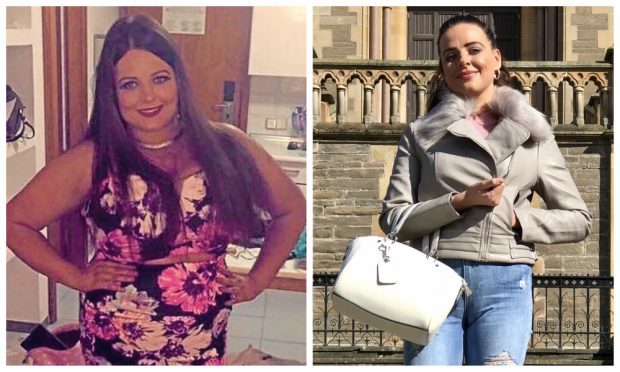 A WOMAN has told how she dropped six dress sizes in a year after splitting up with her partner.
At her heaviest, Louise Ross weighed 16 stone and was a size 20.
But the 29-year-old from Dryburgh now says that she has never felt better after shedding seven stone, and dropping to a size eight, since her relationship ended.
She told the Tele how she went from eating family-sized packets of chocolates and crisps to healthy home-cooked meals —and says she's "never felt better" as a result.
She said: "I had always been fat but I was working in an office and all I was doing was eating.
"It was always in my mind that I wanted to lose weight but I never did anything about it.
"But after I broke up with my boyfriend I just went to the shop and bought loads of healthy food and that was how it started.
"It really motivated me to make a change in my life. I had put on a lot of weight in the time that I was with him.
"I always told people I was happy despite my weight — but I wasn't.
"I was eating takeaways all the time and I was eating a lot when I was working in the office.
"It was always a Chinese, KFC or McDonald's for tea and family-sized bags of crisps and Maltesers — people at work used to tell me I was eating a lot but I would just say 'what else am I meant to do'?
"But I feel so much better now. I am so glad that I did something about it."
"I didn't go on any of these fad diets or anything, it was all just about counting the calories I was eating.
"My dad was actually trying to lose weight at the same time which was really helpful.
"That's what it comes down to — burn more calories than you eat and you will lose weight.
"Since I lost the weight, I have had people messaging me asking if I did this diet or used that product — but it's just about making a lifestyle change.
"It was a complete lifestyle change for me and I can genuinely say that I have never felt better."
Louise is now working as a care worker, which she says has made her more active — and she believes that is paying dividends in helping her keep the weight off.
She hopes her story can inspire people to believe they can achieve their weight-loss goals — and also prove that they don't need fad diets or the help of supplements.
She added: "Honestly, if I can do it anyone can.
"You don't need anything other than to count your calories — none of these fad diets — all you need is healthy ingredients.
"Losing weight has been the best thing I have ever done — anyone else that wants to do it can do it.
"All I did was start to eat three, small, healthy meals a day to begin with — now I am exercising to try to tone up a bit so I can eat more than that."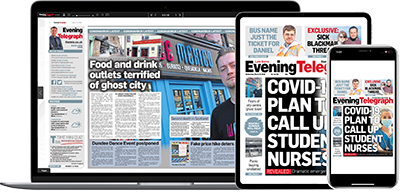 Help support quality local journalism … become a digital subscriber to the Evening Telegraph
For as little as £5.99 a month you can access all of our content, including Premium articles.
Subscribe