Laura Muir admits it will be a "surreal" experience to squeeze her bid for double World Indoor Championships glory between shifts in a small animal hospital and exam revision.
The Dundee Hawkhill Harrier is in the final year of her veterinary studies at Glasgow University and has decided she will be unable to contest the Commonwealth Games on Australia's Gold Coast in April.
However, after managing to get two days off from her placement with the Scottish Society for the Prevention of Cruelty to Animals, the 24-year-old took silver in the 1,500 metres and bronze in the 3,000 metres at the World Indoors in Birmingham at the weekend.
"I had to send a few emails saying I've got a big competition coming up, is it OK if I have a couple of days," said Laura.
"They were fine about it," she added.
"I managed to attend a few tutorials and things early on last week, so I am not missing too much.
"I was in a small animal hospital yesterday and today I'm competing in the World Championships, so it's a bit surreal.
"I've brought a few revision notes down with me. I don't know what time I will have but I will be wanting to focus on the World Indoors and do the best I can. I'm in good shape and put a really good training block in. Hopefully, I can run as best as possible and come away with a medal, one or two. That would be great," she said before the competition.
"I think not doing the Commonwealths has made the preparation slightly more straightforward.
"I have the World Indoors as my main focus and I don't have to worry about trying to maintain that for the Commonwealths.
"So, afterwards, I can just get back and do the training blocks as normal and start my outdoor season later in May.
"It has made the preparation busy but it's made it slightly more straightforward and easier for me. Mentally, I can focus on the World Indoors, too, as my big target for this time of year."
Laura faced a tough task to repeat her double gold from Belgrade last year, both in terms of the event schedule and world-class opposition.
Laura managed to chase down Ethiopia's world record holder Genzebe Dibaba to take silver in the 1,500, after Dibaba took gold in the 3,000.
"I'm going to focus on performances and I want to get through the rounds and compete the best I can at the event.
"Last year I had a heat of the 1,500 metres as well but the World Indoors is one more level up. It will be very tough against a lot of the Africans and some of the Europeans as well.".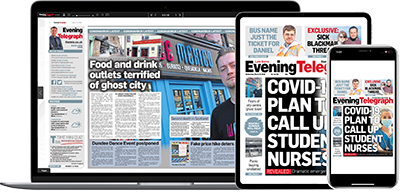 Help support quality local journalism … become a digital subscriber to the Evening Telegraph
Subscribe