Thousands of students in Dundee will miss lectures as staff stage two days of strikes.
Industrial action took effect from 8am today amid a bitter row over plans to end the defined benefit of the Universities Superannuation Scheme (USS) pension.
Dundee and St Andrews universities are among those involved.
A Dundee University spokesman said last month he was "disappointed" that the union had chosen this course of action.
Members of the University and College Union (UCU) are planning a further 14 days of action this month and in March, building towards a week-long walkout by staff.
The UCU said 10 institutions will ultimately be affected by the strikes, affecting more than 145,000 students in total.
Universities UK said it remained at the negotiating table and believed that only about 16% of academic staff who are UCU members in the affected UK institutions voted in favour of strike action.
The dispute centres on proposals put forward by Universities UK to make changes to the USS.
Employers argue that the pension scheme is billions of pounds in deficit, while the union says the proposals would leave a typical lecturer almost £10,000 a year worse off in retirement.
A recent ballot saw more than four-fifths of UCU members back strike action in a 63% turnout in Scotland.
Dundee and St Andrews universities are among 64 UK institutions to be hit by 14 days of strikes over the next four weeks if the dispute is not resolved, the UCU has warned.
UCU Scotland official Mary Senior said: "Nobody wants to take strike action but staff across Scotland feel they have no choice.
"These hardline proposals would slash staff pensions and are simply uncalled for. It is staggering that the universities have refused to engage with the union and a real insult to staff and to students."
A Dundee University spokesman previously said: "We are disappointed the union has chosen a course of industrial action.
"There will be inevitable consequences for students, although we will do everything we can to mitigate the effects and ensure there is as little disruption as possible."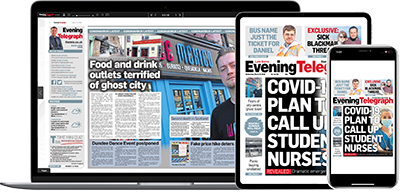 Help support quality local journalism … become a digital subscriber to the Evening Telegraph
For as little as £5.99 a month you can access all of our content, including Premium articles.
Subscribe