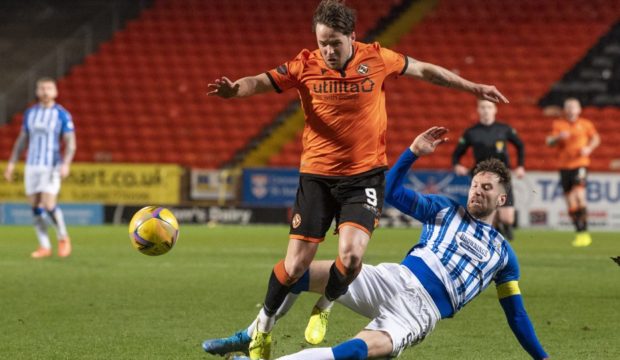 Marc McNulty is happy to be a grinch if his moaning means goals for himself and success for Dundee United.
The striker, who is on loan from Reading, finally got his first goal for the club when he opened the scoring in the Tangerines' 2-0 home win over Kilmarnock.
Willingly admitting he is the grumpiest player at Tannadice, McNulty insists he won't stop complaining because he feels it brings out the best in himself and the team.
McNulty seemed pretty pleased in midweek as he teamed up in attack with fellow goalscorer Lawrence Shankland and will be hoping the partnership clicks again today when United host Motherwell.
McNulty said: "The gaffer will tell you – I've been moaning every day!
"Honestly, I don't stop.
"Look, it is good when players moan at each other because it means their standards are high.
"I have been lucky enough to play at some good teams with some really good experienced players who used to moan every day.
"When I was younger, I used to think: 'Oh no, this guy is moaning again…'
"It is only when you get a wee bit older yourself and get a bit more experience that you sort of see why it happens.
"A few of the guys at United might say that I am the biggest moaner of the lot but I just want the boys to do well and the team to do well.
"If that means I have to moan then so be it.
"I am not saying I am one of the best in training every day – I might even be one of the worst – but I will still have a moan at other people to keep them going and keep the standards as high as we can."
High standard
United certainly set a high standard against Killie, producing arguably their best performance of the season so far to move up to fifth spot in the Premiership table.
They can consolidate that spot in this Boxing Day fixture and another goal for McNulty would help, especially after the drought ended in midweek.
He said: "I was delighted because it's been frustrating for me.
"When you come to a new club as a striker, you want to get off the mark as quickly as possible.
"It was a bit of a nightmare and it was about getting fit and getting back into the groove of things.
"Then I picked up a wee niggle – nothing major – and missed a couple of games which didn't help."
Central role
McNulty obviously enjoyed the more central role he assumed against Killie as boss Micky Mellon went with the two up front.
He added: "The team have been doing all right so far since I came in and I have been sort of playing a bit out of position, not really through the middle.
"I have been playing wide doing a different shift, more defensively.
"But it's been about doing a job for a team that's been doing all right.
"The gaffer tweaked it a bit against Kilmarnock, with a different formation and me and Shanks through the middle, and we both got a goal.
"We just need to do what the manager tells us and if that's me doing a more defensive shift for the team then I will do it without moaning.
"If it is playing through the middle and getting goals then I will be more than happy to do that.
"I was able to get closer to Shanks and it looked like we had been playing together for a little while now.
"We understand each other pretty well and I am sure with more games with us up front, we will get better.
"Nicky (Clark) will be a wee bit disappointed not to have started against Kilmarnock but that's what keeps us on our toes. We know that the top goalscorer is on the bench.
"If you're not pulling your weight or not playing well, you're going to get hooked. It's only good for the club and healthy for ourselves that there's competition."
Scotland hopes
To have two Scotland internationals combining to win the Killie game will be a huge boost to United going into today's clash against the Steelmen.
McNulty admitted that he has still not given up on being part of national coach Steve Clarke's squad, albeit his last appearance for his country was against San Marino back in March 2019.
"Obviously, I would love to get back in the Scotland set-up but I just need to concentrate on playing well every week for the club," said McNulty.
"Shanks will want to stay in the set-up as well.
"Again, that means healthy competition because you have both of us wanting to score goals and both of us wanting to do well and get in that set-up.
"Who is to say both of us can't?
"But it's all about concentrating on United, doing a shift here and winning games and taking the club further up the table."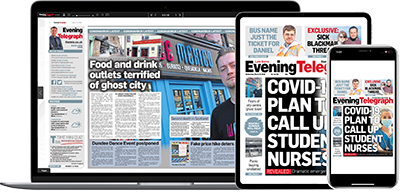 Help support quality local journalism … become a digital subscriber to the Evening Telegraph
Subscribe