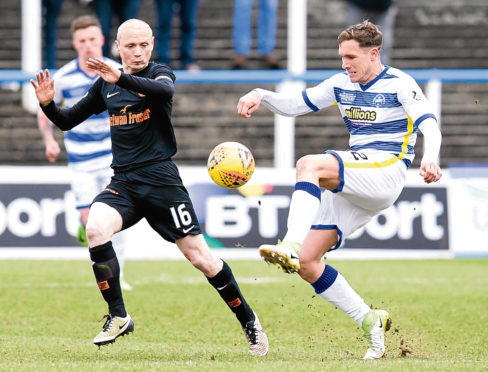 Willo Flood has taken encouragement from improved Dundee United performances over the last couple of games.
But the Tangerines skipper knows what matters most from a game at this time of the season is winning.
That's why the midfielder is approaching today's trip to Dumbarton in upbeat mood after beating them at Tannadice on Tuesday.
"The biggest thing about the other night was three points," said Flood.
"Especially after the weekend when we should have won the game at Morton and didn't, that was what mattered on Tuesday.
"We looked solid and in control at Morton and it was a decent performance overall, but nothing gives you a lift like winning.
"I thought against Dumbarton we played much better football but we need to make sure we shore it up at the back because we probably gave them too many chances.
"But you know what, we looked dangerous and that will give the lads a lot of confidence going into the next few games."
During the difficult run since the turn of the year Flood and other senior players have been doing all they can to keep heads up in what is, basically, a young dressing-room.
He knows, though, nothing boosts a footballer's confidence like winning.
"The lads are feeling a bit better about themselves now. It's been a tough couple of months and, for the young lads, this is probably the first time they've experienced something like this," the Irishman added.
"They will come out bigger and better players and will know next time they go through a bad patch how you get through it.
"You work hard and keep together as a team, don't get on each other's backs and keep fighting.
"For young players especially, though, it's winning games that lifts them.
"Last Saturday I turned around to Scott McDonald after we'd both been subbed off and said 'here we've put in a real solid performance at a difficult place, kept a clean sheet and got three real good points'.
"Then we conceded a freak goal right at the end and that's just the way things have been going for us.
"So you try to take the fact we controlled the game for over 90 minutes and build on it, but, especially with the young ones, they just look at getting three points and if you don't get them it's a blow."
While the season obviously has not gone to plan, Flood remains unshaken in his belief that this United team can still win promotion.
And he believes the signs are there that key players are coming good at the right time.
"I think the other night boys who get you on the edge of your seat were looking sharp. Billy King was doing well and Paul McMullan looked sharp.
"We're getting Scott Fraser back to full fitness in the next couple of weeks and that'll make a massive difference as well."
He wants them to provide more proof of that against the Sons.
"We know what we are going into facing Dumbarton again. The pitch will be heavy and it's important we move the ball from side to side then hit players like Scott McDonald in the No 10 position and create from there.
"Another win and we will have a bit of momentum and then there is the St Mirren game at Tannadice on Tuesday.
"We won't need any motivation for that one. First it's Dumbarton and the one thing we know we do need is bottle because it's never easy down there.
"We did well there last time, got on top and controlled the game."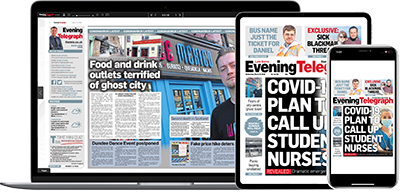 Help support quality local journalism … become a digital subscriber to the Evening Telegraph
Subscribe