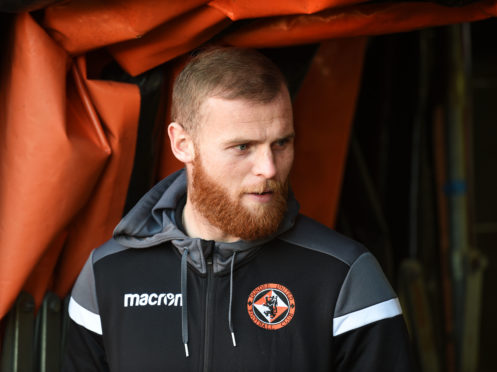 It is far from business as usual but Mark Connolly insists Dundee United are doing everything they can to keep fit during lockdown.
The coronavirus pandemic has put Scottish football into disarray, with the season suspended until further notice and players unable to train with their clubs.
Like a large proportion of the population, however, footballers are working from home.
For Irish defender Connolly and his United team-mates that means finding ways, however difficult it may be, to stay in peak physical condition should they get the chance to complete their season.
"It has been strange, a once in a lifetime period we are in," the 28-year-old said.
"We finished last Tuesday and it has been over a week we have been off.
"I have stayed at home with the wife and the family and we have gone along with the medical and Government advice.
"It is strange and difficult at times but it is something we all need to adhere to get back playing football, doing our jobs and getting back to life on a regular basis.
"There is a different fitness for football and it is hard to replicate what you would do in terms of training.
"The club has given us a programme, though, and we have a good group. Our boys are just ticking over.
"We have a programme which we are due to start on Monday but it is tough because you are limited to what you can do.
"We just need to keep ourselves ticking over because it will be quite a tough ask to get back to where we were before if we are not training full-out every day.
"I have been doing little bit in the garden.
"It has been hard without weights and that so I have tried to improvise with stuff in the house to do dips and press-ups.
"I bought one of those simulation spin bikes online the other day as well.
"I needed to get something for inside the house. I think I was on every gym equipment website, both in the UK and abroad, and everywhere was a four-week wait.
"I spoke to Gary Dempsey, our fitness coach, to try to rent a treadmill or spin bike.
"Everything was sold out or rented out, so I couldn't get anything.
LEE WILKIE: It's perfect time for Dundee United fans to look back with pride on incredible season
"Thankfully, I have managed to get this bike. It has a screen where you can do spin classes and use Google Maps.
"I always enjoy doing Spin classes and it was always something I wanted to get further down the line anyway.
"My wife can use it and, hopefully, it will keep us fit and active."
Away from staying in shape, Connolly has been trying to keep himself entertained minus a life without live football.
However, even switching on the TV right now isn't brining any solace for the life-long Arsenal fan, after he was reminded of a painful derby defeat for the Gunners.
"I was an Arsenal fan when I was younger, the Invincibles and all that," he added.
"Funnily enough, my dad took me and my sister to see them play at Old Trafford in 2001 when we lost 6-1 to Manchester United.
"I couldn't believe how long ago it was – 19 years ago!"
"They actually showed it on Sky Sports' Monday Night Football as the main game because there is no football just now.
"They even had Gary Neville and Jamie Carragher doing the analysis.
"I remember we had to sit in with the Manchester United fans because somebody we knew from home was a season ticket holder and that is how we got to the game.
"It wasn't a great watch. It was horrible and I was surrounded by Manchester United fans, but at least Roy Keane scored that night!"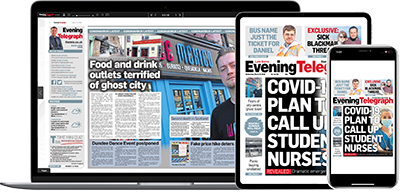 Help support quality local journalism … become a digital subscriber to the Evening Telegraph
For as little as £5.99 a month you can access all of our content, including Premium articles.
Subscribe