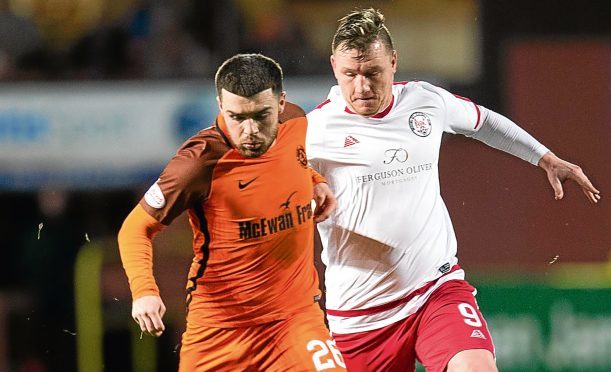 Up until last weekend, Cammy Ballantyne was focusing on winning promotion from League Two with Montrose.
Now the goal of moving up a league is the same — it's just the team that's different and the prize that's even bigger.
And if the Dundee United kid hits his target, he could be finishing this term with what might just be a unique medal double.
For the second year running, the start of this season saw the 20-year-old loaned out to Montrose to get first-team football.
That led to him playing a big part as, under Stewart Petrie, the perennial strugglers have stormed to the top of their division.
And less than a week ago he thought he'd be seeing out the campaign at Links Park.
As United's injuries mounted, however, gaffer Csaba Laszlo felt the need for more depth to his squad at Tannadice made recalling the full-back a no-brainer.
That meant in mid-stream preparations for a home clash with Cowdenbeath became getting ready to face Brechin at Tannadice on Tuesday.
And once the paperwork to get him back as a tangerine was rushed through, Ballantyne was not only named on the United bench but came on for the entire second half after injury forced Mark Durnan off.
"I only found out on the 31st that I was coming back. We were at training and that's when the manager told me I'd better come back because of the injuries and stuff," he said.
"Until then I thought I was going to be playing for Montrose on Tuesday but on Monday they got the paperwork done so I could be available for the Brechin game.
"And it was great to get on for the second half. The manager has told me I won't necessarily be playing every week but, because of the injuries, I'll be involved and get a chance to play.
"It was unfortunate for Mark he took a kick but, for me, it was great to be involved straight away.
"Now I'm hoping I am going to get two league medals out of this season, one with Montrose and one with United. That would be great and it's the aim."
While United is his parent club and it's always been his intention to become established as a regular, he admits leaving Links Park was not without some sadness.
"I want to be playing at the highest level I can, so I was more than happy to come back from the loan. United are my club and I want to be playing for them.
"Montrose has been brilliant for me. They gave me the opportunity to play senior football at first-team level week in, week out, and I am really grateful to them for that.
"I enjoyed working with Stewart Petrie. He showed faith in me by relying on me and trusting me to play every week. I've a lot to thank him for.
"I've come a long way since being out on loan with them. Coming back and going straight into the game, I felt a lot more ready having played first-team football for Montrose than I would have if I'd been playing in the U/20s here.
"Out on loan you are playing against men. It's a lower level, of course, but it's a lot more demanding than playing against players of your own age and it gets you ready."
Now Ballantyne is concentrating on helping United.
"I am going to work hard in training. Hopefully, the manger puts me in but if I'm not playing I have to make sure I am ready, so when he does, I can do the job."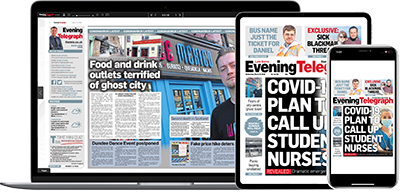 Help support quality local journalism … become a digital subscriber to the Evening Telegraph
Subscribe