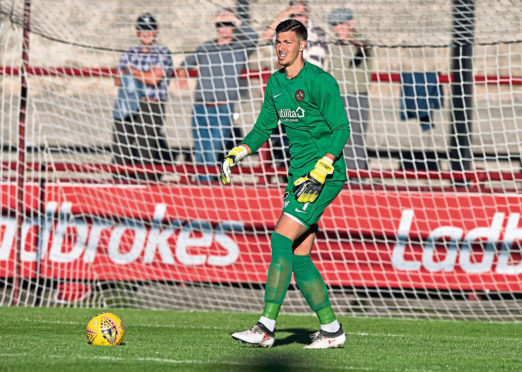 Dundee United fans will find out today which of their new goalkeepers has won the battle to start the league season between the sticks.
And one of the men involved, Benjamin Siegrist, is happy to let them know in advance that whoever gets the nod, they can rest assured he'll do a good job for the Tangerines.
Whether or not it's the giant Swiss shot stopper or Slovakian Matej Rakovan, Arabs are also safe in the knowledge they'll keep each other on their toes all season.
Since day one of pre-season training, Siegrist and Rakovan have been fighting hard to convince gaffer Csaba Laszlo they should be No 1 and that's not going to stop with the visit of in-form Dunfermline.
"You need to prepare every week to play," said the 26-year-old former Aston Villa kid.
"You train all week to play on Saturday, so, whatever you face, you know you have done the work during the week and you feel confident about facing it.
"I want to play, that's why I came here. So does Matej and it's been a good relationship.
"Along with Neil Alexander, our coach, we have a goalie union and it is a fun working environment.
"At the end of the day we all support each other and, whoever plays, that continues.
"It's good competition and it's good for the team.
"We prepare in training and whoever is picked, they will do their best. This is the life of a goalie really."
And he believes whoever is in the team, they will handle the rigours of a Scottish style of play that is, in some ways, a change from what they've been used to abroad but in many others just the same.
"I haven't really found the games here that different," Siegrist added.
"The continental game, if you like, is a little bit more passing and moving than here.
"They play it long at times here and quicker than you would get overseas.
"I will kick it long but also play the ball out from the back.
"It is important when you do play it long it is to good areas where the strikers can use it as a weapon and not just kick the ball up to the stands."
For Siegrist, the most important thing going into today is United are now approaching the game with a degree of confidence.
His feeling is the new-look line-up is ready for the all-important Championship action and he sees last week's convincing Betfred Cup win at Elgin City as proof of that.
"Obviously, the results were not always there in the cup but I think we have seen a lot of improvement from game one to the last game.
"We wanted to win every game, each time you step on the pitch that competitive edge needs to come out, but I think we have seen a lot of improvement despite some of the results.
"We understand now how the gaffer wants us to play.
"It takes practice in training as well and, at the same time as playing these games, we had to practice for a long season ahead.
"There are no excuses but there were some tired legs in the games because we worked hard from Monday to Friday and then we had a game on Saturday.
"Everything has to come together and I thought in the last game, especially the second half against Elgin, we put everything together and did a good job.
"The physical part was there, we didn't get tired towards the end.
"We had some fresh legs coming on in the second half, we played good football and we scored goals.
"It was a good game to get some confidence from.
"We are now going in on a high, we have prepared well this week and we will give it our all."