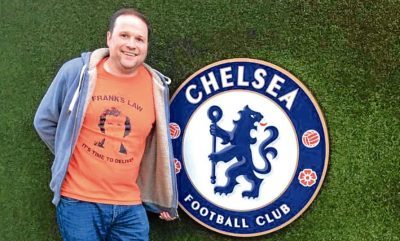 A football fanatic who visited 40 football grounds to celebrate his 40th birthday has completed his challenge.
Chelsea's 4-2 Premier League win over Southampton at Stamford Bridge was Jonny Smith's final game after more than a year of adventures.
The Dundee United fan managed to complete the challenge just a few hours before his 41st birthday.
Jonny, director of electrical firm Colin M Smith, visited places as diverse as Buckie, Barcelona, East Kilbride and Orlando in his bid to raise awareness of Frank's Law, a campaign named after late United legend Frank Kopel calling for the introduction of free personal care for dementia sufferers under the age of 65.
Speaking to the Tele, Jonny said: "It feels absolutely magic to know that I've done it.
"It was brilliant to finish with such a tremendous game.
"The quality was superb but I don't know about value for money. I don't think £52 a ticket is fair for the average punter.
"The best value for money I got during the whole challenge was Forres Mechanics against Nairn County in the Highland League.
"My ticket cost £8 and Forres won 7-1 — it was fantastic.
"But I loved every single game I went to see."
Jonny's challenge started in January 2016, ahead of his 40th birthday last April.
He had previously visited most of the professional grounds in Scotland but wanted a new challenge and decided to visit 40 different venues.
He was rarely pictured at any of the grounds without a Frank's Law T-shirt as he aimed to spread the word across the UK and beyond.
Jonny, from Kirriemuir, added: "I think I was able to get the word out about Frank's Law quite successfully.
"A lot of people were asking about it and it certainly intrigued a lot of people in England.
"The best thing about the whole trip hasn't been just one game. It was about spending time with pals old and new.
"I think I'll be taking a break from going to games now because I have got to spend time with my family.
"My wife said she'll divorce me if I try something similar for turning 41!"
From Buckie to Barca… Dundee United fan spends year visiting 40 stadiums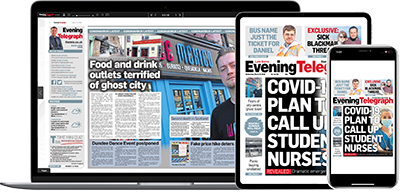 Help support quality local journalism … become a digital subscriber to the Evening Telegraph
For as little as £5.99 a month you can access all of our content, including Premium articles.
Subscribe