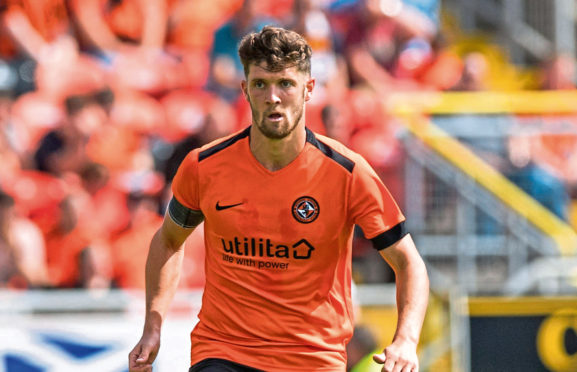 Their fans are known for singing it and defender Stewart Murdoch has revealed the fact love is in the air at Tannadice right now has a lot to do with the team's rebirth under Robbie Neilson.
The 28-year-old believes as well as all the other work the new gaffer has put in since his arrival last month, making all his players feel wanted has been a big part of the reason why they've been climbing the league table.
"The manager has come in and backed the players," said Murdoch.
"Obviously it wasn't a squad he's built but he said he wouldn't have come in if he didn't think there was a squad here he could work with.
"I think boys like to be loved and he's shown that. He's backed boys and he's given them game time who were not playing," he said.
"He's given confidence to people and that's why you see people working so hard because if he backs you, all you can do is give everything for him."
That love is in the air should not be taken as a sign that things at the Tangerines have suddenly gone soft.
As the battling weekend win at Ross County showed, there's plenty grit in Neilson's United squad and Murdoch admits life under a man whose own playing career was marked by committed performances, is not easy.
"He's said he wants us to play a certain way, one that's going to take a lot of energy and we have been working incredibly hard.
"That's probably the reason there's been a few niggles and muscular injuries because we have been working so hard over the past five or six weeks since he came in.
"We're willing to do that because he's backed boys and given them confidence again.
"There was a lot of people in the team who weren't playing with a lot of confidence but there's been a massive change and everybody can see that from the outside."
That's brought about a renewed togetherness, one Murdoch believes was apparent in the Highlands on Saturday, when United showed an ability to dig in and fight for a vital win.
It's one, he believes, might just be worth more than the three points that were added to the tally for the season so far.
"To beat them after they beat us 5-1 at Tannadice not that long ago, it's a big win for us and we need to kick on from it. Last Saturday was a psychological win as well as taking the three points off County.
"Obviously we want to win every game but when we go up there it's one of our big competitors for the league. And to win after what they did to us last time was big."
And, for a defender, the manner in which it was achieved by a team that was previously better known for its passing game, was pleasing.
"We felt we put in a decent performance. We had to soak up a lot of pressure for about half an hour at the end but it never felt like they ever really cut us open. They put in a lot of long balls and we managed to deal with it. It was a difficult game, we got the goal early on and played really well to back that goal up with a win.
"I think throughout this season it's going to take a lot of dirty play to win games. We said at half-time if we were going to win it was going to take the back four and the two in front to be solid.
"You would like to win games three and four nil but you only take three points for any win and we were delighted with 1-0."
United will be looking to extend their unbeaten run when lowly Alloa visit Tannadice on Tuesday night and Murdoch is viewing that as another big challenge.
"We are going well and the important thing is we build on this run."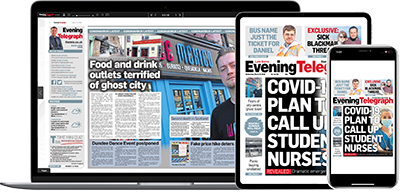 Help support quality local journalism … become a digital subscriber to the Evening Telegraph
For as little as £5.99 a month you can access all of our content, including Premium articles.
Subscribe