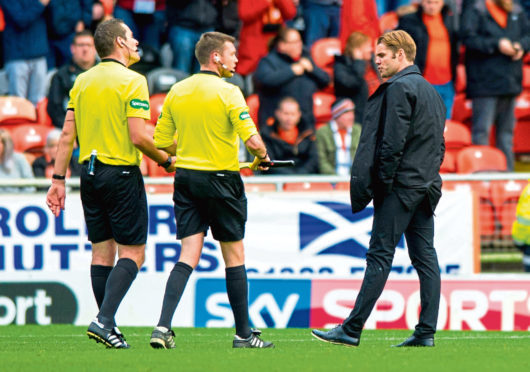 Dundee United manager Robbie Neilson has called on the Scottish Football Association (SFA) to help match officials when it comes to protecting players on the park.
The United gaffer was angry at referee Euan Anderson for losing control of Saturday's 1-1 draw with Inverness at Tannadice – where former United defender Coll Donaldson was sent off after a second bookable offence for Caley.
Although happy with the performance, where Pavol Safranko opened the scoring for United with a header on 55 minutes before ICT equalised through Jordan White on 72 minutes, Robbie feels it was an occasion that could have been handled better.
"I felt a few of the tackles coming in with the way we play with (Billy) King, (Fraser) Aird and (Paul) McMullan in the pockets, in these areas they need a wee bit of protection at times," the 38-year-old said.
"You can't have it that you take it on the half turn and someone comes through the back of you. The laws of the game are the referee is there to protect players so I just felt there were a few challenges that were a little bit borderline.
"I always think with these things the referee has to nip it in the bud early. What happens if he doesn't, as what happened on Saturday, you get to 70 minutes and the cards come out left, right and centre and you get a sending off.
"If you do it early in the game and say 'right that's not acceptable' then everyone understands they can't do that."
The former Hearts gaffer also revealed he tried to speak to ref Anderson on the pitch at half-time before subsequently having words in the tunnel after a first half which saw the visitors pick up just one yellow card.
In the second period they were shown a further five.
He added: "I just spoke to him, it's part and parcel, I speak to the referee and he didn't want to speak on the pitch so I spoke to him in the tunnel to ask his opinion on certain things.
"There was nothing that was like a really bad tackle or really reckless but I think, with the way we want to play, the players have to get some protection.
"I don't mind if people go in and it's a good tackle and they take the ball. But when there's no contact with the ball and people have to jump out the way of tackles, it shouldn't be their responsibility to jump out the way of tackles."
Inverness boss John Robertson was not impressed with Neilson trying to speak to Anderson on the park and revealed he will phone the SFA about the incident.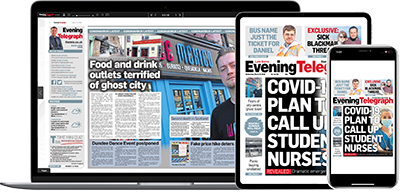 Help support quality local journalism … become a digital subscriber to the Evening Telegraph
Subscribe