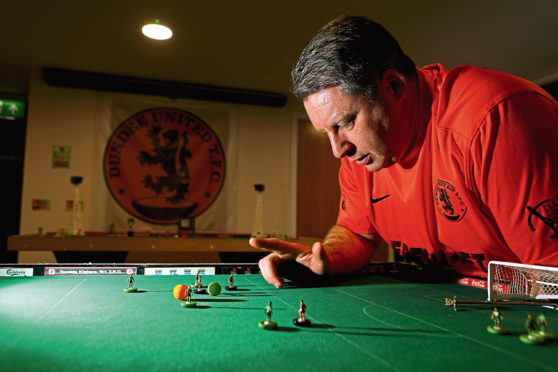 Dundee United have made a stunning return to Europe – thanks to a group of Subbuteo fanatics.
Tayside Kickers '91 wear their tangerine colours with pride as they represent the club in the Champions League, among other tournaments, while playing the famous tabletop game.
The club is one of only two domestic outfits in Scotland playing the game as members try to bring the table football classic back into the limelight.
Subbuteo was a hugely popular pastime until video games arrived in the early '90s and took over.
Tayside Kickers '91 player Steve Bennett said the game has evolved from its original format.
Changes in how matches are played has seen an upsurge in its popularity across Europe.
Steve said thousands tuned in online to watch the 2018 World Cup in Gibraltar.
He plays with teammates Andy Beskaby, David Baxter, Dave Minty, Craig Thom and Gareth Christie, who met for their latest session at Letham Church Hall this week.
Steve said: "The game has evolved a lot from the one people played when they were younger.
"We wear our Dundee United tops while we compete as a team or as individuals.
"We've represented the Arabs in the Champions League and at tournaments around the world.
"Its a great laugh and also very competitive."
Teammate Andy said the game requires a great deal of concentration.
He added: "The games are officiated by a referee and are played on AstroTurf-style pitches.
"The base of the players isn't the same as the original format, meaning the players move a lot faster.
"Like any other game there are tactics. People might play slowly to frustrate their opponents."
Steve said they were keen to welcome more players to their ranks to create a better domestic league.
He said: "We've taken the game down to Tannadice and fans were able to see it for themselves.
"The club has been around since 1991. A few other teams in Scotland have disbanded and there is only a club in Glasgow now. In the '80s there used to be Subbuteo leagues in Dundee and Arbroath but they essentially died with the video game generation.
"We practice in Letham but if there was enough demand we would like to bring it back to Dundee and the local area for matches."
For more information, visit the Dundee United Table Football Club Facebook page.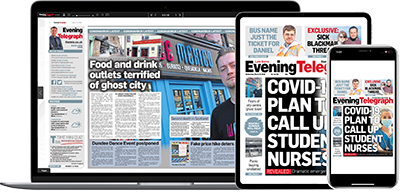 Help support quality local journalism … become a digital subscriber to the Evening Telegraph
For as little as £5.99 a month you can access all of our content, including Premium articles.
Subscribe