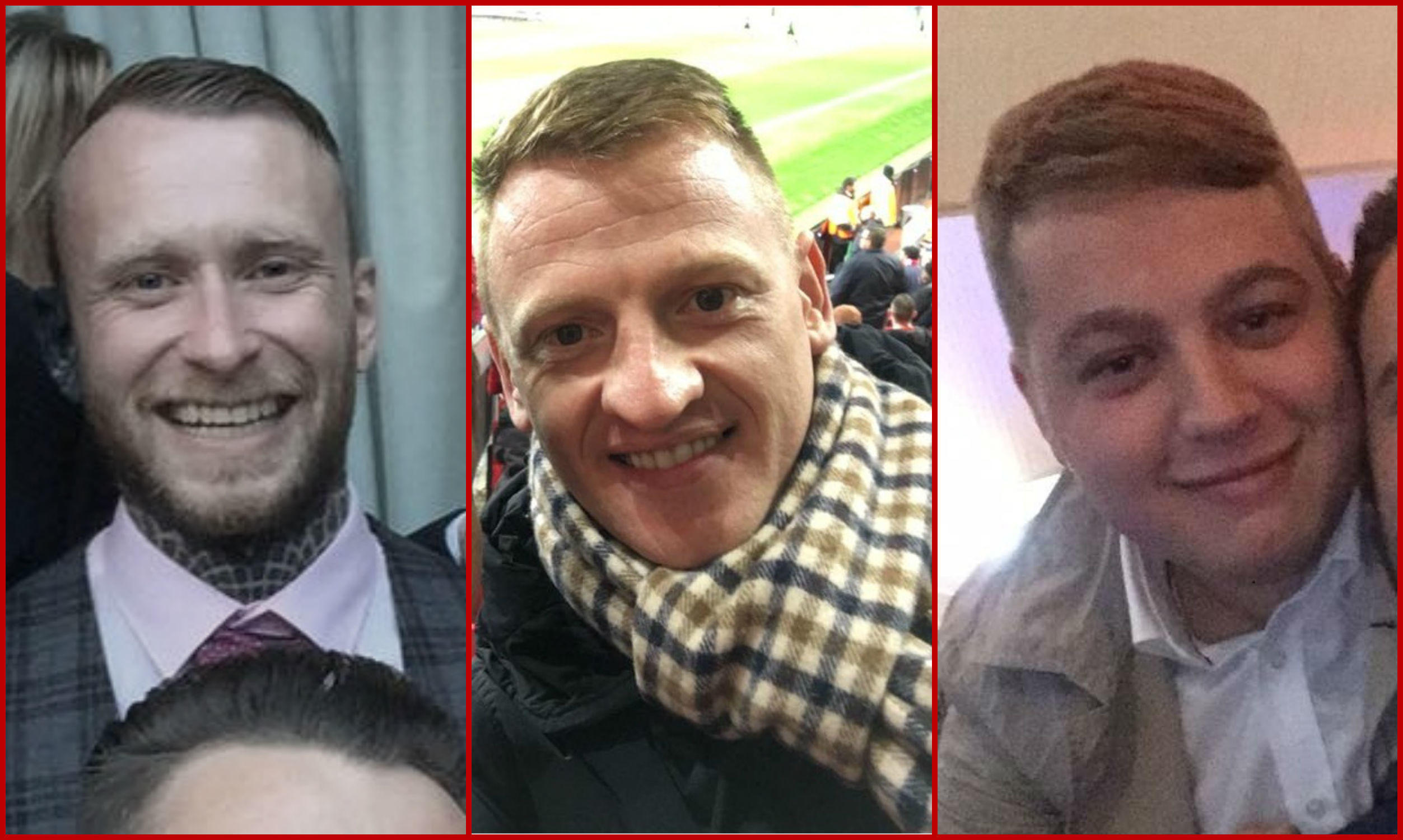 A group of men has been ordered to pay £10,000 after being found guilty of "violent" conduct while on a trip in Budapest.
Gary McDonough, 30, of Swallowtail Court, Reece Wright, 22, of The Hawthorns, Anthony Bruce, 31, of Balunie Avenue, Robert Alexander, 53, of Lawton Terrace, and Lewis Knight, 29, of Hillpark Drive, Birkhill, were found guilty at Pest Central District Court in Hungary and have now been told to pay up for their offences.
Following the decision, some members of the group then took to publicly posting on social media telling how they weren't going to pay the money.
One of the men even uploaded a photo of a damaged car with a smashed TV scattered around it, which is thought to have been part of the vandalism charge.
Following the verdict in a public session in Budapest — which wasn't attended by any of the accused — McDonough was found guilty of two offences, while the rest were found guilty of one.
Under Hungarian law, McDonough was found to have committed "public nuisance" by displaying "anti-social and violent conduct" which was "aiming to incite indignation or alarm in other people".
He was further found guilty of vandalism causing damage to the property of others.
Wright, Bruce, Alexander and Knight were only guilty of the public nuisance offence.
As a result of their actions, the group are being told to fork out 1,080,000 Hungarian Forint, which equates to roughly £9,700 altogether.
McDonough has been fined about £3,000, while the rest face paying nearly £1,700 each.
But some members of the group, while laughing about the incident, claimed on social media they weren't going to pay the fines.
In the original public post, Bruce said on Facebook: "Nice we chap in the door fae the postie there!!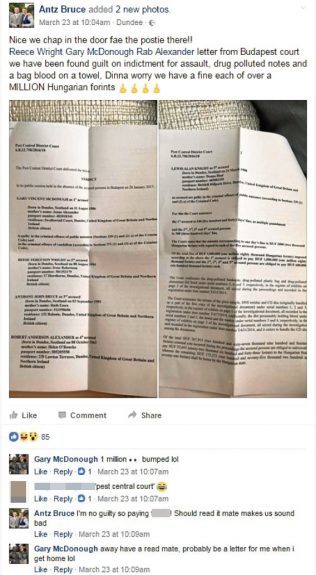 "Reece Wright, Gary McDonough, Rab Alexander, letter from Budapest court. We have been found guilty on indictment for assault, drug polluted notes and a bag blood on a towel.
"Dinna worry we have a fine each of over a MILLION Hungarian forints."
McDonough replied: "One million. Bumped lol."
Bruce returned: "I'm no guilty so paying ******! Should read it mate, makes us sound bad."
McDonough then said: "I'm not paying my own fine, **** thum."
He added: "Wrong place, wrong time Anthony. Flying with the crows, get shot with the crows, you ken how it works."
Bruce said: "Lucky we didn't need to appear. Would have got jailed after reading all that."
More than 80 people "liked" the post and used laughing emoticons at the group's predicament and mis-spellings of names used by the Hungarian court authorities.
Court papers show that officials seized some "drug-polluted" items in relation to the case, but none of the five were found guilty of any substance offences. They confiscated "the drug-polluted banknote, drug-polluted plastic bag and drug-polluted aluminium foil".
A spokeswoman for the Metropolitan Court of Budapest confirmed it's seeking the fines from the five men. She said: "I can confirm the five persons have been found guilty of the offences, at Pest Central District Court on January 20, 2017. They were fined for their offences. The amount of the fine is approximately 2000 and 3000 euros each."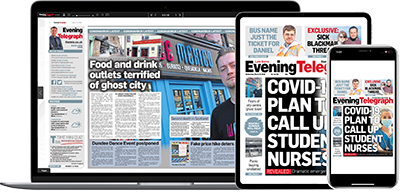 Help support quality local journalism … become a digital subscriber to the Evening Telegraph
For as little as £5.99 a month you can access all of our content, including Premium articles.
Subscribe