A Dundee teenager helped save the life of a man suffering a seizure — just hours after laying his dad to rest.
Brandon Cameron's dad Peter passed away two weeks ago, aged just 39.
Brandon said he still doesn't know what caused his father's death and that the family was "looking for answers" from medical professionals.
During the farm worker's wake at the Ambassador in Clepington Road, a man suffered a "severe" epileptic seizure while waiting at a nearby bus stop.
Despite having only just laid his dad to rest, 19-year-old Brandon leapt into action.
Paramedics who subsequently attended said that he had "saved his life".
Brandon, who lives in the Hilltown, today told the Tele that he acted because "it could have been someone's dad". He said: "We were all in the Ambassador and the man's girlfriend came in screaming for help.
"We ran outside and the man was having a seizure — it was a really bad one.
"He was slumped against the glass and it was really bad. His legs were completely rigid.
"I ran across and held his head, put him in the recovery position and did everything I could to stop him swallowing his tongue.
"I knew what to do because of my time in the army cadets where I learned first aid. I didn't even think about it.
"I knew that I had to do something. I managed to get him in a stable position and told someone to phone an ambulance."
When paramedics arrived at the scene, Brandon said they asked who had attended to the man and they told him he "had saved his life".
Brandon said: "The paramedic said what I did was the best thing that anyone could have done in the situation.
"The man could have died because it was a really bad seizure.
"That could have been someone's family torn apart. I would have wanted someone to help my dad if they could have.
"I just hope that everything ended up being fine for him."
A Scottish Ambulance Service spokesperson said: "We received a call to attend an incident on Clepington Road. A male patient was taken to Ninewells Hospital by ambulance."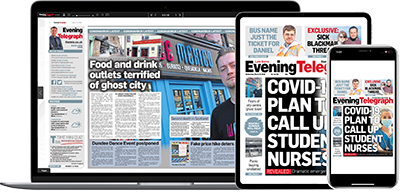 Help support quality local journalism … become a digital subscriber to the Evening Telegraph
Subscribe