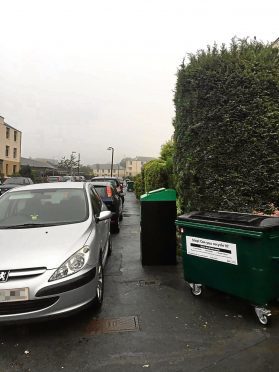 A taxi driver has pleaded with city council chiefs to stop people parking on pavements and blocking mobility scooter users.
Paul Macready, 39, took several photographs of vehicles that were either half or fully parked on the pavements of Marryat Street in Dundee
One Peugeot was parked so far over next to a bin that someone pushing a pram or using a mobility scooter would have had to take to the road to try to get past.
But with nearby yellow lines in Hepburn Street stopping cars being parked in a similar fashion, Paul is perplexed at why Marryat Street is any different.
He said: "They put yellow lines on Hepburn Street not long ago.
"Just after 6pm the other night I looked outside in Hepburn Street at my mum's and people couldn't get their cars parked.
"It was just after I read in the paper about wardens starting to go out at night now.
"People used to park half on and half off the pavement but they can't now because of the yellow lines.
"But if you look at Marryat Street, there are no yellow lines and people there are fully parking on the pavement.
"I asked two traffic wardens why there was a difference between the two streets and they didn't know.
"You can see in one of the photos that someone is parked right next to a bin and someone in a mobility scooter wouldn't be able to get by.
"So my question to the council is, why are there no yellow lines in Marryat Street?"
Paul said it was unfair for drivers on one road to be punished but not others.
He said: "It just annoys me. It seems unfair for people in Hepburn Street.
"My mum has a mobility scooter, so I know how it can affect people, but most of the people in Hepburn Street parked half on the pavement and half on the road, so I didn't think it was much of an issue to be honest.
"They just need somewhere to park at night after work.
"Yet in Marryat Street people are fully parked on the pavement and they can get away with it. The situation just angers me."
Dundee City Council was asked to comment but had not responded by the time of going to press.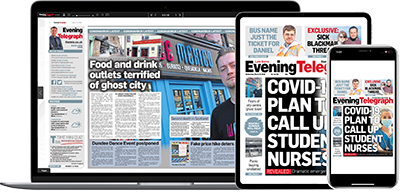 Help support quality local journalism … become a digital subscriber to the Evening Telegraph
Subscribe