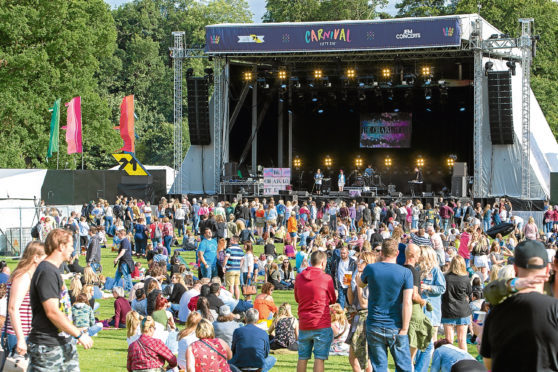 With renewed calls for a Hogmanay party to be introduced in Dundee – particularly following the loss of Carnival Fifty Six – we want to know what appetite there is for such an event.
Please take part in our poll and tell us what you'd like to see, if anything, to bring in the bells for the new year.
Our latest story on this topic is beneath the poll below.
A TAXI boss hopes a Hogmanay street party can make up for the city losing a major music festival.
Chris Elder, from the Unite union, says drivers in the city will suffer from the loss of Carnival Fifty Six after the Tele revealed the event had been scrapped for 2018.
Mr Elder is now calling for a greater push for Dundee to host its own Hogmanay festivities in a bid to offset the loss of the Camperdown Park event.
He told the Tele: "It's quite disappointing to be honest.
"I thought it was a great thing — I went on the Saturday myself and it was brilliant.
"There's definitely going to be a lot of the guys on the taxis missing out now because of it. It will have a big impact on us."
Mr Elder added that the city needs to "push ahead" with something that could make up for the loss of the festival.
He said: "For a place like Dundee we really should be having something at New Year. We're busy enough at Hogmanay but a big event like they have in Edinburgh would make a big difference.
"That's something I think the council should look at doing if we're going to be missing out on what was happening at Camperdown."
Repeated calls have been made by Dundonians for a Hogmanay event similar to celebrations in Edinburgh.
This almost came to fruition in 2015 but Dundee City Council pulled the plug on the festivities, citing a lack of funds.
Mr Elder revealed that he had been gearing up to discuss preparations for this year's Carnival Fifty Six.
The debut festival last August drew 16,000 music-lovers to Camperdown Park and saw performances from Basement Jaxx, Mark Ronson and The Charlatans.
Traders hailed the event with businesses across the city reporting extra footfall over the weekend it was held.
Mr Elder added: "We want to encourage things like that and I don't know if somebody else is going to take it on. We did a great turn at the Slessor Gardens concerts as well.
"We were actually going to start planning ahead as to what we were going to do for the taxi rank at Carnival Fifty Six this year.
"We were hoping it was going to be at the old Timex bay area but now that's not going to happen.
"I'd like to know exactly why it's not going ahead but I suppose we'll have to wait and see."
The Tele revealed last month how Special Olympian swimmer Ross Inglis launched an online campaign to give 2019 a Dundonian welcome.
Ross, 29, said he had been inspired to push for an official Hogmanay party after being booked as a piper around the country at big celebrations.
A council spokesman said: "As a city we are always happy to welcome event organisers as it allows us to showcase the best aspects of what we have, while giving local people and visitors quality activities to take part in."
Dundee music festival Carnival 56 scrapped after just one year
Party like it's 2019? Piper in fresh bid to bring Edinburgh-style Hogmanay bash to Dundee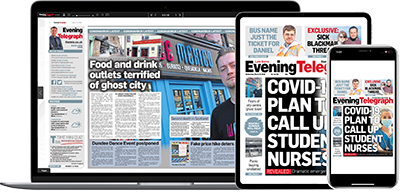 Help support quality local journalism … become a digital subscriber to the Evening Telegraph
Subscribe