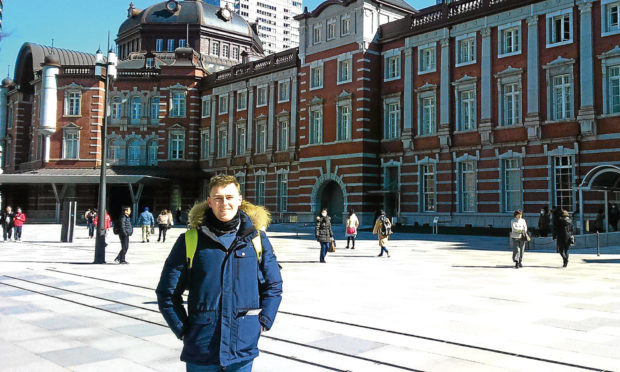 Dundee's growing reputation as a must-see global destination has reached the Far East, thanks to the Japanese architect behind the city's new V&A Museum.
The iconic new Waterfront building has been appearing on posters around Tokyo, to promote a new exhibition of Kengo Kuma's work.
Callum Bowsie, a former criminology student at Abertay University, saw the posters during a week-long trip to the city. He said images of V&A Dundee could be seen all around Tokyo's rail and subway stations, accompanied by text explaining Kuma's architectural philosophy.
Callum, who moved to South Korea last year, said the £80 million museum has become an "iconic symbol" of Kuma's vision to create quality spaces using patterns and layering.
He said: "They are holding a three-month exhibition of Kuma's work in their Tokyo Station Gallery. I spotted the poster while weaving my way through Tokyo Station during rush hour.
"I saw a building very similar to the V&A. I could make out Newport behind the building and realised it was in fact the building soon to become Dundee's greatest landmark.
"I took the picture and sent it to my Dundonian friends to let them know their city was famous in Tokyo. During the week I continued to see the poster in key spots where hundreds of thousands of people pass by every day."
Kuma's design was chosen in 2010 from 120 entries.
A V&A Dundee spokesman said: "Kengo Kuma is an internationally renowned architect and we're delighted to be working with him.
"His projects attract global interest and we're very pleased that V&A Dundee has been included in the latest exhibition on his work."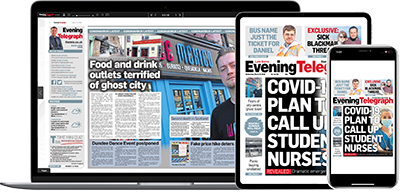 Help support quality local journalism … become a digital subscriber to the Evening Telegraph
For as little as £5.99 a month you can access all of our content, including Premium articles.
Subscribe