Inspired by the memory of her beloved father, Dundee University PhD student Megan Sinclair has created a new comic that explores bereavement while raising awareness of heart disease and cash for vital medical research.
Close to the Heart will be launched at Dundee Comics Creative Space, Vision Building, today.
The publication centres on the sudden death of Megan's father, George, who suffered a fatal heart attack in his sleep at the age of 53 in April 2014.
She says the event turned her family and life upside down but her determination to do her father proud helped drive her towards first-class honours and a masters degree with distinction before embarking on her PhD in comics and education.
Megan says the overall message of Close to the Heart is one of hope.
She said: "following my dad's death I needed an outlet and scribbling down my thoughts gave me that."
The event begins at 10am with guest speaker Nicola Streeten, a graphic novelist discussing her own experience of grief.
Megan's comic is free but donations will be given to the British Heart Foundation.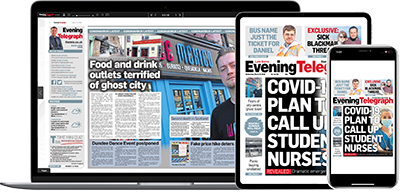 Help support quality local journalism … become a digital subscriber to the Evening Telegraph
Subscribe