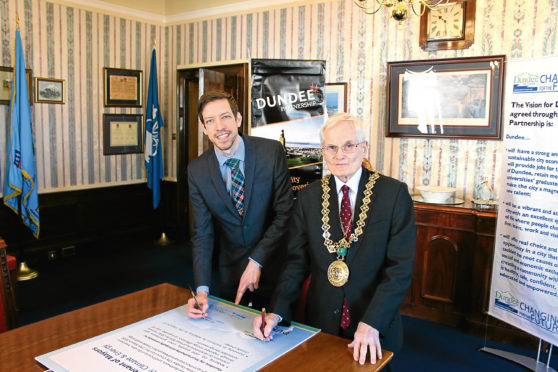 Dundee's ambition to become a low-carbon city has moved a step closer after Lord Provost Ian Borthwick and city council leader John Alexander signed the Global Covenant of Mayors for Climate and Energy.
By being part of the initiative, Dundee City Council will commit to developing a partnership Sustainable Energy and Climate Action Plan (SECAP) that will build on existing good work and provide a practical route map for future local action on energy and travel.
Mr Borthwick said: "I'm delighted to sign the Covenant of Mayors for Climate Change and Energy on behalf of the city. By signing this, we are joining a global coalition that is committed to fighting climate change.
"In Dundee, we are already showing real determination to create a sustainable future and by joining this movement we can bring about positive change by accepting and implementing more challenging goals.
"The SECAP is important for the whole of the city — for business, the community, the third sector and the public sector. We look forward to working with others to develop this plan and take it forward."
The Covenant of Mayors for Climate and Energy is the world's largest coalition of civic leaders promoting and supporting voluntary action to combat climate change and move to a low-carbon economy.
The signing of the covenant is part of series of green initiatives taken on by the council.
Following the signing of covenant, the council will be promoting and taking part in the World Wide Fund for Nature's Earth Hour initiative which encourages people across the world to turn off their lights for one hour on March 24 from 8.30pm-9.30pm, saving carbon emissions, while at the same time raising awareness about climate change.