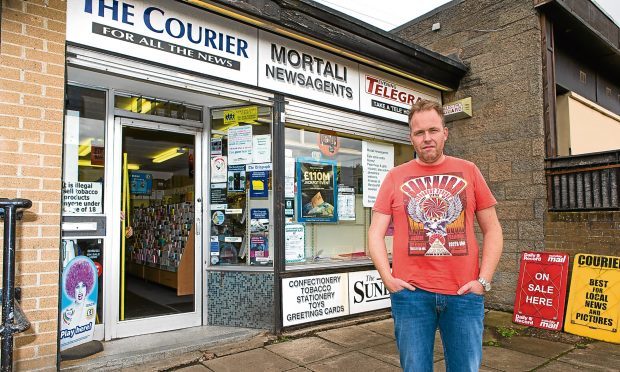 A Dundee shop owner has hit out after thieves nicked more than £1,000 worth of goods from his business.
Mortali Newsagents in Charleston Drive was targeted overnight.
Cigarettes worth about £800 were stolen during the break-in along with £300 out of the shop till.
The raid is the first the shop has suffered in its 22 years of operation.
Owner Robbie Mortali, 44, may now have to shell out a four-figure sum in order to replace the front door which suffered significant damage during the break-in.
Speaking to the Tele, he said: "We think the break-in happened between about 2.30am and 4.30am this morning.
"There was about £300 in the till, which they just came in and nabbed, but the real value was in the cigarettes — about £800 worth.
"The real cost we've got to deal with now is in the door, which they've just smashed their way through completely.
"That could be thousands of pounds' worth of damage but we're waiting to hear back on exactly how much it's going to cost.
"We've also got to deal with the insurance companies and that could take months and months to resolve."
Robbie added: "I've been here 22 years and nothing like this has ever happened to me before.
"I have absolutely no idea why they've decided to pick on me this time but they have so we have to deal with it.
"I've spoken to the police but it's just a case of they'll look into it and I haven't heard anything further.
"I haven't heard anything from some of the people around here either. It's obviously disappointing to have something like this happen but the worst part is having to deal with everything else after that.
"Hopefully they'll be able to get someone but we'll just need to wait and see."
Police are now hunting for the thieves and are urging anyone with information to come forward.
A spokeswoman for Police Scotland said: "Police Scotland is appealing for information after thieves broke into a newsagents at Charleston Drive some time between 10.30am yesterday and 4.15am today.
"A three-figure sum of money was stolen, along with a quantity of cigarettes.
"Anyone with any information that may be useful should contact Police Scotland on 101 quoting CR/23763/17 or speak to any police officer. Alternatively information can be passed anonymously via the charity Crimestoppers on 0800 555 111."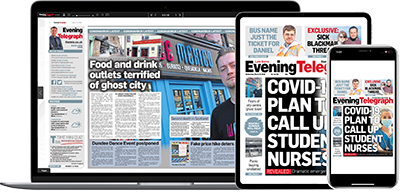 Help support quality local journalism … become a digital subscriber to the Evening Telegraph
Subscribe