Secondary school pupils in Dundee are to learn life-saving CPR techniques during term time, the city council's leader has announced.
John Alexander said Dundee would follow the example of Glasgow City Council and roll out CPR training across the city, after an invitation from the British Heart Foundation (BHF).
The Strathmartine councillor said he had personal experience of losing loved ones to a heart attack and hoped the training could help save lives.
The decision was made after discussions with Paul Clancy, the council's executive director of children and families services.
Mr Alexander said: "I'm delighted to confirm that Dundee City Council will be rolling out CPR training across all of our secondary schools.
"It's common sense that where we can provide appropriate training to young people, we do so.
"As someone who has lost relatives to heart attacks and heart-related issues, I appreciate how much of a difference such training could make to individuals and families.
"Should they ever need to, pupils who undertake the training would have the skills and knowledge to assist fellow pupils, family, friends and anyone else that finds themselves in need of CPR."
Mr Alexander added: "Giving pupils the skills to save a life is not only sensible, it's potentially life- changing and I'm very proud that we'll now work with schools and pupils to ensure our secondaries are geared up to deliver this training.
"You can see how such training has a much wider benefit and these skills will be used far beyond the school gates."
The compulsory training is set to start this term.
David McColgan, BHF's senior policy and public affairs manager, said: "This announcement by Dundee City Council is warmly welcomed.
"It is great to see the City of Discovery continue its tradition as a pioneer among Scotland's local authorities."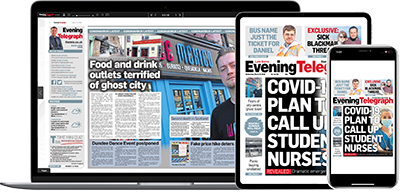 Help support quality local journalism … become a digital subscriber to the Evening Telegraph
Subscribe