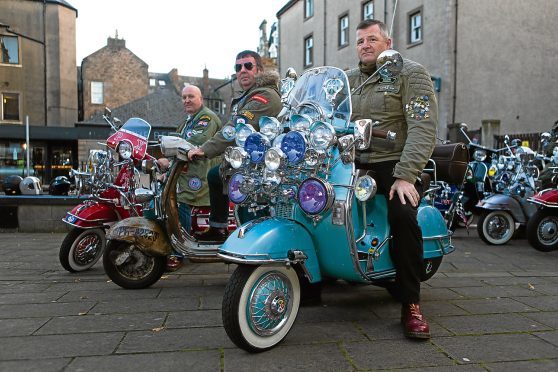 A new group for scooter lovers looking to get involved in local fundraising efforts has been set up.
Dundee Mods is made up of 15 mod scene enthusiasts who are keen to get involved with charity events.
Although only up and running for three weeks, members have already made a start on its charitable efforts.
It has already raised £300 by raffling off received donations of wine, spirts and other goodies.
Two residents from The Bughties Nursing Home in Broughty Ferry will benefit from the mods' efforts and the raffle draw will be made at Harlequins Bar in Albert Street next Saturday.
The group also raised an extra £200 which will be going towards Macmillan Cancer Support.
Member Arthur Hayburn says it is keen to get involved in any charitable efforts across the city.
A lifelong scooter enthusiast, Arthur, 59, was recently pictured alongside fellow mods at the opening of the All Or Nothing musical at Dundee Rep.
He said: "The draw we're doing is for two guys in the home who were mods.
"We're taking them to the draw and there will be a band playing on the day. We'll get a big cheque to hand over at some point and we've raised a bit for Macmillan as well.
"We're really just looking to get involved with anything that we can, especially when the nicer weather comes in.
"When we're all out with the scooters, a lot of people gather around, so, if we're able to attach a few charity buckets, then I'm sure we can raise a bit of money for anyone that needs help."
The group has already rocked up at several events across Tayside including the Errol Car Show and the Dundee Museum of Transport Car Show.
Members meet up regularly on a Sunday, by the Halfords store at Kingsway West. New faces are welcome and a Facebook group with information has been set up.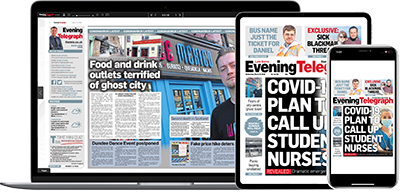 Help support quality local journalism … become a digital subscriber to the Evening Telegraph
For as little as £5.99 a month you can access all of our content, including Premium articles.
Subscribe