The city council's education convener has hit back over claims that staff shortages are affecting pupils.
Councillor Gregor Murray, of the SNP administration, insists the staffing levels at Dundee schools are improving compared to a few years ago.
But Labour say pupils and staff are bearing the brunt of unfilled positions and are calling for tighter financial controls.
The party's children and families spokesman, Councillor Charlie Malone, said he would be writing to the council seeking an update on teacher numbers for the next session.
Recent figures showed that for 2017, there were 1,374 teachers employed in public schools in Dundee compared with 1,397 the previous year.
Currently, there are 25 primary retirees, though no head teacher roles are unfilled.
But Councillor Murray denied there were concerns over unfilled vacancies ahead of the new term.
The SNP politician said: "I was definitely perplexed at the claims of the shortage of head teachers. We've got one retiring at Baldragon and we've filled that.
"You'd think that they (Labour) would know that, considering that elected members sit on the panel to determine head teachers. It's fair to say the position is getting better compared to a few years ago.
"The posts that are unfilled at the moment will be filled. It's not a case where we'll just not replace anyone.
"We've got applicants and candidates for every position. That's not to say that they are all necessarily the right candidates and we still have to go through the interview process along with all the correct checks to prove that they are suitable."
Mr Malone believes vacant posts are having an adverse impact on closing the attainment gap in Dundee and called on the administration to "up its game" or risk "complete failure".
He added: "If we are to meet targets for enhancing the learning experience and closing the attainment gap, then we need to ensure our schools have the resources necessary for every child to get the educational opportunities they deserve.
"Also, that our teachers can receive the support necessary to continue their efforts to deliver high-quality teaching without any undue stress due to staffing shortages.
"Tighter financial controls would have allowed the council to free up money to deliver an incentive to attract the subject teachers.
"The administration rejected Labour's proposals at budget time that would have delivered a golden hello to the subject teachers we need to attract.
"More financial control by the administration could have delivered so much more and resolved the problem we currently have in attracting teachers."
But Councillor Murray said Labour's alternative was unviable, adding: "Other councils have done that but that's not the route I want to go down.
"It doesn't work. It becomes an arms race where one authority can offer more than the other.
"It doesn't create any more staff and it's just a waste of public money.
"I've only been in the position for 12 months and it's definitely been a lot easier this year finding staff.
"I think a lot of it is down to there being more confidence in the city.
"We're doing a lot of work with Dundee University for people who can't afford to quit their jobs to apply for teaching vacancies in city schools and that's been positive.
"There's certainly no shortage of people applying.
"We've been inundated particularly with people wanting to become head teachers, which is a good thing."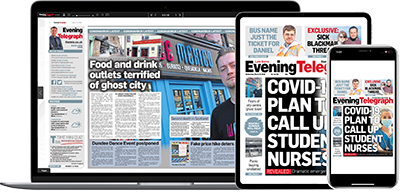 Help support quality local journalism … become a digital subscriber to the Evening Telegraph
Subscribe