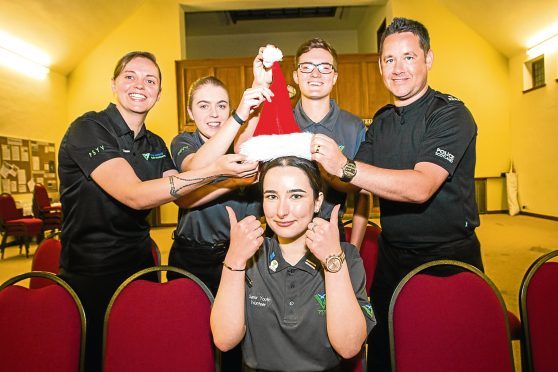 It's not just Santa's elves who will be busy this Christmas.
Police Scotland Youth Volunteers will be helping out at Dundee's first-ever Santa Dash.
The event — which has proved popular in other cities across the country — is set to be one of Dundee's biggest festive events, with organisers hoping as many as 2,000 Santas will sign up to raise money for the Archie Foundation.
The Police Scotland Youth Volunteer (PSYV) programme aims to strengthen the relationship between police and young people, breaking down barriers and promoting positive role models while providing a practical way for young people to get involved in their communities.
PSYV community development officer Sammy Keith said: "We're delighted that our Police Scotland Youth Volunteers will be supporting Leisure and Culture Dundee's Santa Dash.
"It will provide our volunteers with great experience through helping at this event, ensuring a safe and fun-filled experience for all the Santas who are helping to raise money for the Archie Foundation."
Volunteer Sophie Murray said: "It's about the experiences you get to be a part of and the memories you make along the way and the Santa Dash is just another of the many amazing chances we get."
A spokeman for Leisure and Culture Dundee said: "We are delighted to be working with these young people and very grateful to Police Scotland.
"Not only does it give them the opportunity to take part in such a large-scale event, it will provide us with excellent stewarding on the day."
The Santa Dash — which takes place on November 26 — is being backed by the Tele.
The event is open to everyone, from adults down to under-fives. The oldest person to sign up so far is 69 while the youngest is just 11 months.
The 2km course can be completed once — or twice if participants wish to finish the full 4km distance.
Those who sign up will get to keep their Santa suit, take home a medal and a certificate as well as a bag of goodies with discounts for local stores.
Entrants are invited to dress up in other Christmas-themed outfits.
An online fundraising page has been launched and people can support the cause by making donations on the Virgin Money Giving website. Anyone who wants to make a donation should visit the site and search for Leisure and Culture Dundee Santa Dash.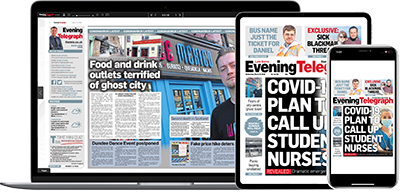 Help support quality local journalism … become a digital subscriber to the Evening Telegraph
Subscribe