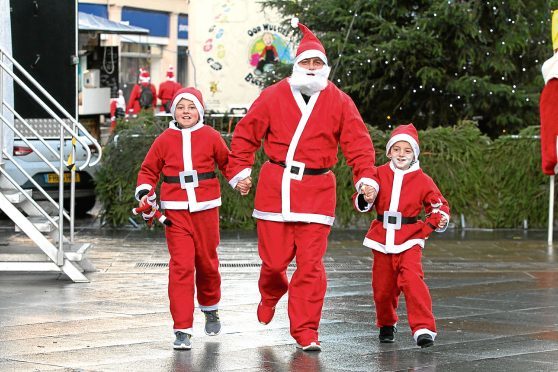 With Dundee's first Santa Dash such a success, organisers are already thinking of ways to make it bigger and better next year.
The event, which took place on Sunday, saw more than 700 Santas run through the city centre to raise money for charity.
Garry Smith, events and promotions officer for organisers Leisure and Culture Dundee, said debriefing will now be held in a bit to make next year's event even better.
He said: "We think 1,000 Santas taking part in the event is going to be achievable.
"So that's what we're aiming for next year.
"One possible idea for next year is to have a Santa gantry in place for the finish line.
"This would allow runners to pass under the gantry as they complete the challenge.
"If we've got a dedicated finish line, it will make a great visual spectacle and as people come up to the gantry they will see the end in sight."
The Santa Dash saw those taking part raise funds for the Archie Foundation, the official charity of Tayside Children's Hospital, which is aiming to raise £2 million for a new twin operating theatre.
The amount raised by participants is now being totted up.
Speaking about the day, Gary said: "It was amazing seeing everyone there on the day — to see a sea of red was absolutely amazing.
"We had just over 700 Santas taking part. We were hoping for anywhere over 500, so to get that number was excellent.
"On behalf of Leisure and Culture Dundee and the Archie Foundation, we'd like to say a special thank you to all the businesses, organisations, local shops. Their help was amazing and they helped to make it such a special event."
Emma White, head of fundraising at the Archie Foundation, said the inaugural event was "incredible".
She added: "It was so lovely to see the city centre awash with red and white Santa suits, people with fairy lights and dogs dressed up — even prams turned into sleighs!
"Everyone made such an effort to make it a real success and the atmosphere was brilliant.
"Hopefully, this event will become an annual festive highlight for the city and its success will grow and grow.
"We're so grateful to everyone involved in organising and taking part in this great event and raising money for our Tayside Children's Hospital appeal."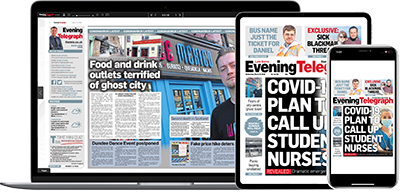 Help support quality local journalism … become a digital subscriber to the Evening Telegraph
Subscribe