Xplore Dundee's new high-tech fleet of buses – complete with phone chargers, speedy wifi connections and extra legroom – could be on the road before Christmas.
The firm has shared new images of its "Emerald" fleet on social media.
Xplore said it will debut the buses on the 22 route – which runs from Ninewells to Craigowl via the Hilltown – before the end of the year.
The vehicles are being built by Falkirk firm Alexander Dennis and come equipped with all kinds of customer-friendly mod-cons.
These include USB charging ports for mobile phones, 4G-powered wifi connections and more legroom without sacrificing seats thanks to advances in manufacturing.
Managing director Christine McGlasson said: "We're really delighted to be delivering this early Christmas present to our customers – the Emerald buses are due to hit Dundee's streets at the beginning of December and will be the "jewel in the crown" of our fleet.
"We're looking forward to fully unveiling them to the public – I'm sure passengers will really enjoy the quality and high-spec features of these new double deckers."
The Emerald buses also have low-emission hybrid engines which combine a conventional 6.7 litre diesel powerplant with an electric motor. Its manufacturer claims it produces 37% lower CO2 emissions than a conventional bus, largely by using the electric motor to get the vehicle moving.
Dundee is one of several cities in Scotland aiming to introduce low emission zones in the near future.
The zones are expected to ban older, more polluting vehicles, and while the zone has not yet been formally approved, it is likely to include highly polluted streets such as the Seagate.
The city council already offers incentives to electric vehicle owners, while European funding secured 12 hydrogen buses for city fleets in March.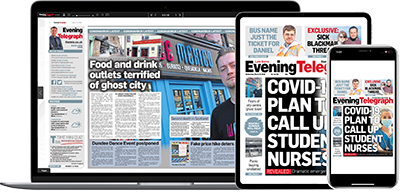 Help support quality local journalism … become a digital subscriber to the Evening Telegraph
Subscribe