One of the "biggest days" of police action in the battle against Dundee's drugs epidemic took place yesterday.
About 120 police officers took part in raids across the city as part of Operation Fundamental.
Properties were targeted in Douglas, Whitfield, Maryfield, Dens Road and Hilltown.
The raids have been based on two months of intelligence gathering.
A bungalow on Balunie Avenue with a reinforced door was one of the first addresses targeted. Officers repeatedly used a battering ram to gain entry.
Police are understood to have gathered drugs paraphernalia which was removed in evidence bags.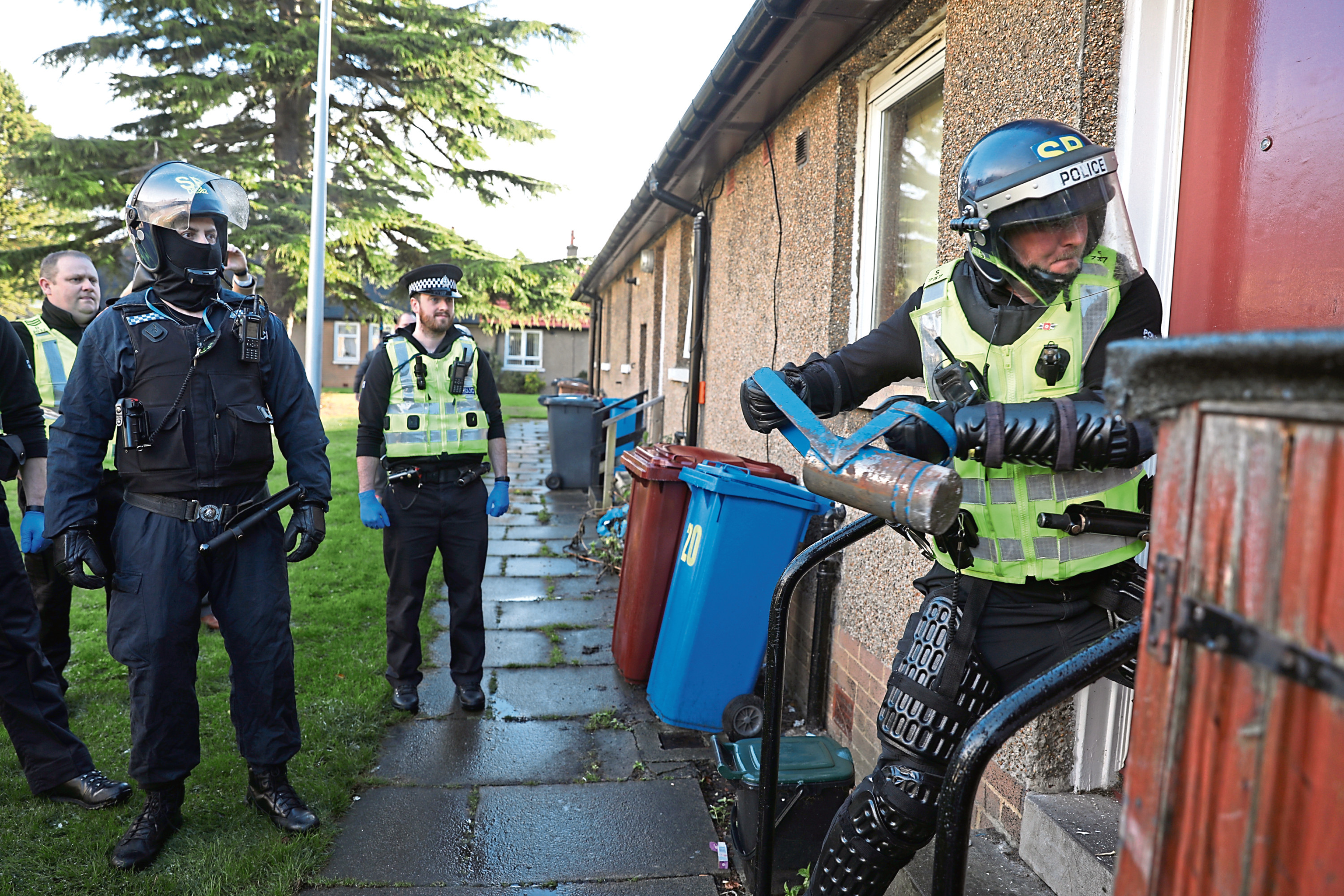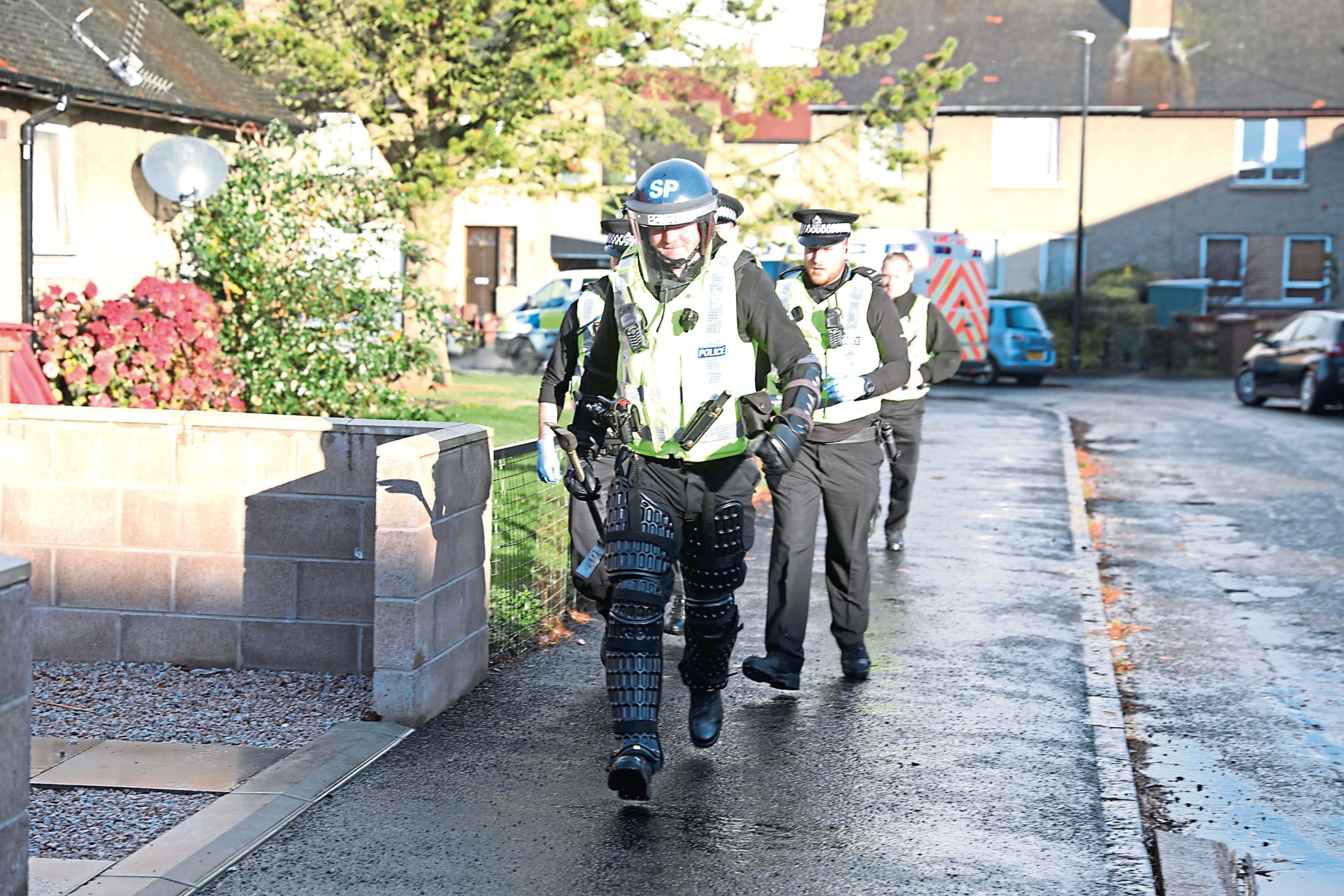 Nearby resident Catherine Simon, 70, said said: "I'm happy to see the police here carrying out these type of raids.
"It isn't uncommon to see the police in the area as there have been issues recently."
Officers then headed to a house on nearby Balmerino Road.
Chief Superintendent Andrew Todd, Divisional Commander for Tayside, said the operation was not only about enforcement but a wider change to people's attitudes towards drugs.
Operation Fundamental will see police work with other agencies to bring about long-term change.
It has been described as "unique" as information has been shared with partner agencies from the outset to enable support to be offered to vulnerable individuals who may become known during the course of the operation.
Officers are also being supported by officers from the National Crime Agency.
Ch Supt Todd said: "We're acutely aware of the impact that drugs misuse has on our communities and we're committed to work alongside our partners to tackle it.
"We work closely with other organisations including health, social work and housing to address the wide range of issues that lead to and result from substance misuse.
"However, enforcement is also an important part and Police Scotland will continue to use intelligence to target those who are blighting our communities by dealing drugs.
"Operation Fundamental has received a considerable amount of support from Police Scotland specialist services from right across the country.
"It shows that in addition to our work locally we can exert a significant show of strength, calling upon our colleagues to assist in our operations locally."
A police statement issued yesterday said: "Ten people have so far been arrested today in connection with alleged drugs offences as part of Operation Fundamental, which is a multi agency intelligence led operation to impact on the critical level of drug related deaths in Dundee.
"Today's actions saw officers from Tayside Division, Specialist Crime Division, Operational Support Division and National Crime Agency execute 12 warrants across Dundee."
Yesterday's raids build upon a significant amount of activity in the Dundee and wider Tayside area in recent months.
Since July this year, there have been 73 people arrested for drug-related offences, 59 drugs search warrants executed and more than £32,000 in cash recovered. In addition, 14.6kg of heroin, almost 24,000 diazepam and benzodiazepines tablets and more than 16,000 untested tablets have been seized.
Dundee Partnership chairman Councillor John Alexander said: "The sale of drugs in our communities causes untold misery for families and individuals.
"Drug abuse is a stain on this city preventing people from making the most of their lives.
"It rips families apart – causing domestic violence and the neglect of children.
"With the move to target those who peddle drugs in our communities, there will be a ripple effect for all the Dundee partners who are committed to making our city a safer and healthier place for all."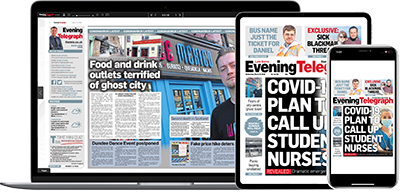 Help support quality local journalism … become a digital subscriber to the Evening Telegraph
For as little as £5.99 a month you can access all of our content, including Premium articles.
Subscribe