Residents want to know what is planned for a former homeless shelter after it was put up for sale.
Red Admiral Court at Dunbar Park, Whitfield, is being marketed by property firm Ryden.
The building, owned by Hillcrest Housing, which comprises three blocks, each with nine flats, was previously leased to Dundee City Council as temporary homeless accommodation.
But in a letter seen by the Tele, Hillcrest officials said the council lease had ended and, following that, various options for the future of the building were considered.
"The options appraisal concluded that the building should be placed on the open market and we are currently awaiting the necessary approvals for the sale to proceed," the letter added.
"The approval process includes a confirmation that any purchaser is sound and that they will, in terms of property management, act accordingly with all the necessary registrations in place."
It's unclear what the building, or the site it occupies, could be used for if a sale goes through – and North East councillor Brian Gordon has called for more information.
He said: "Residents have come to me regarding their concerns over the secrecy surrounding the sale of Red Admiral Court and the intentions for the property.
"I have approached both Hillcrest and Dundee City Council about plans for this former controversial housing property but the answers are limited to a statement that the purchaser is sound and has the appropriate property management registration in place.
"The residents of Whitfield, who have witnessed the different regenerations of this area, need to be consulted more on this project given the problems in the past."
George Roberts, of Dunbar Residents' Association, said members had been trying to get clarification about the future of the building.
He said: "This will be discussed at our next meeting on September 12. Residents are anxious to know what is planned for this building."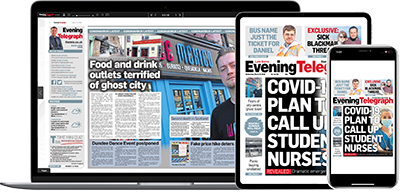 Help support quality local journalism … become a digital subscriber to the Evening Telegraph
For as little as £5.99 a month you can access all of our content, including Premium articles.
Subscribe